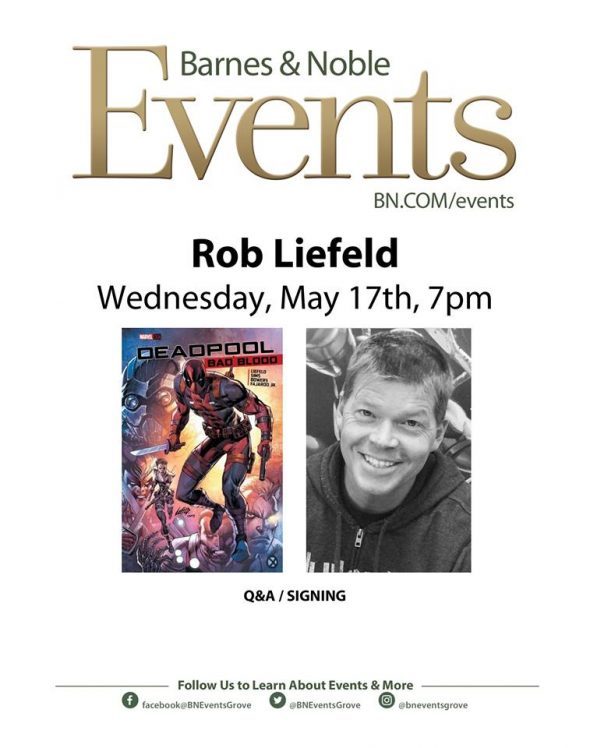 Meet Deadpool creator Rob Liefeld on Wednesday May 17th at Barnes & Noble at The Grove in L.A. for a Q&A and signing to celebrate the debut of Marvel's first ever Deadpool OGN "Deadpool: Bad Blood" from 7:00 to 9:00 PM. Each attendee will receive an exclusive 'DAY OF RELEASE CERTIFICATE OF AUTHENTICITY' provided by Rob Liefeld and Key Collectibles.
Press Release:
Rob Liefeld's legendary career began at the age of 18 years old. Fresh out of high school he was hired by both Marvel and DC Comics where he began laying the foundation for a resume that would define a generation. Rob has covered many of the industries top-tier franchises and produced memorable runs on diverse titles such as Cable, Wolverine, Deathstroke, Hawk and Dove, X-Men, X-Force, Fighting American, Spider Man, Hawkman, Teen Titans, and Deadpool.
Marvel Comics and Rob Liefeld now present Deadpool In his first Original Graphic Novel! Deadpool's been shooting, stabbing and otherwise annoying people for a long time now. He's made a lot of enemies. One he can't quite place is the brutal Thumper, who keeps showing up out of the blue to pound him into jelly…..
"Deadpool: Bad Blood" needs to be purchased from Barnes & Noble at The Grove in order to receive a wristband to attend this event. Wristbands will be issued on a first-come, first-served basis beginning Wednesday May 17th at 9am to customers who purchase ""Deadpool: Bad Blood" from Barnes & Noble at The Grove.
• Limit 1 wristband per book
• Personalization will be available
• Rob Liefeld will only be signing Deadpool: Bad Blood
• Absolutely No memorabilia please
Barnes & Noble – The Grove
189 The Grove Dr, Ste K 30, Los Angeles, California 90036
(323) 525-0270