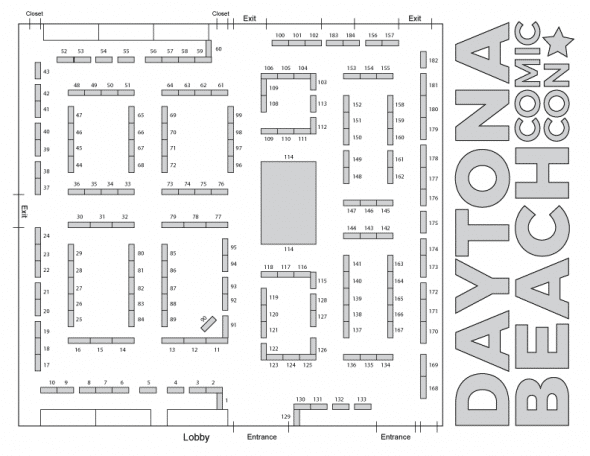 This Sunday April 23, 2017 is the Daytona Beach Comic Book Convention
It will be held at Embery-Riddle ICI Center, 601 S. Clyde Morris Blvd, Daytona Beach, Florida. Admission at the door is $8. Hours are 10 AM to 5 PM.

Some of the vendors are Earl Shaw, Justin Wilson, Tony Hines, John Tischler, Jake Bates, Tidalwavecomics Owner, Pablo Ordone, Pedro Cruz, David Corporon, Jim Carasells Collectibles, David McPike, Steve Baginskie, David Finley, Steven Myers, David Salle, David T Alexander, Christian Gillispie, Angelo Crawford, Scott Doane, Jay Olchak, Mark Gmuer, Bruce Hughes,  Todd Merrick, George Pintye, Doug OConnor, Doug Berry, Mike Kales, Joe Tegge, Gary Clark, Raymond Sanabria, Aaron Measles, Leigh Hathaway Weston, Lisa Potts, Terry Moore, Chris Foss, Steven Warren, Eric Speanburgh, Patty Harvey Woller, Eric Woller, Daryll Gunter, Leah Butler Crawford..
For a full vendors list go to the web page HERE!