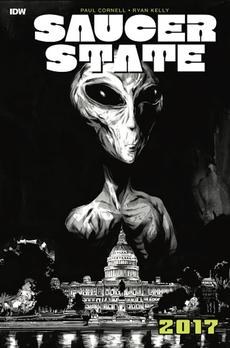 Paul Cornell signs SAUCER STATE #1, CHALK, VAMPIRELLA #1 and EMPEROR OF THE DALEKS at Forbidden Planet London on Wednesday 10th May from 6 – 7pm!
She was abducted by aliens. Now she's the President. She's going to use the power of that office to find out what really happened. But will they let her?
Saucer State is the sequel to and the conclusion of the Hugo Award nominated Saucer Country. It's House of Cards does The X-Files. It's a bulletin from the brightest timeline. She will break the world to find who hurt her.
One of the very few mainstream comics to be nominated for SF's prestigious Hugo Award.
Paul Cornell has been Hugo-nominated for his work in TV, comics and prose, and is a BSFA award-winner for short fiction. He has also written some of Doctor Who's best-loved episodes for the BBC, and for the Sherlock-inspired TV show Elementary, starring Jonny Lee Miller and Lucy Liu.
Forbidden Planet London Megastore
179 Shaftesbury Avenue, London, WC2H 8JR
0207 420 3666