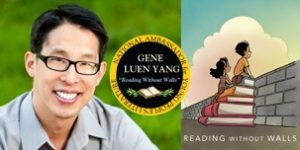 Press Release:
Books on the Square and Moses Brown School are pleased to present graphic novelist Gene Luen Yang at the Woodman Family Center on Tuesday April 4th at 4:00 PM. National Ambassador for Young People's Literature Gene Luen Yang calls us all to READ WITHOUT WALLS, exploring books about characters who look or live differently than you, topics you haven't discovered, or formats that you haven't tried. READING WITHOUT WALLS promotes diversity and opens readers' eyes to new ideas and experiences. READING WITHOUT WALLS is an inclusive way to spread appreciation and understanding for others — and to learn new and exciting things. Yang will also talk about his successful graphic novels and be available to sign books.
Gene Luen Yang is the National Ambassador for Young People's Literature. He has written and drawn many graphic novels, including American Born Chinese, which was a National Book Award finalist, as well as the winner of the Printz Award and an Eisner Award. His graphic novel set Boxers and Saints won the Los Angeles Times Book Prize. He has also written for the hit comics Avatar: The Last Airbender and Superman.
This event is free and open to the public. Parking is available after 3:00 p.m. in the lots accessible from Hope Street or take the number 1 RIPTA bus heading North.
Woodman Family Center
250 Lloyd Avenue, Providence, RI 02906