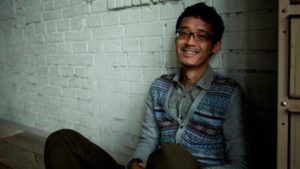 Press Release:
MomoCon 2017 welcomes our first Japanese guest, composer Naoshi Mizuta! He will be joining us for panels and the New World: The Music of Final Fantasy concert on Sunday, May 28th at 1:00 PM. Tickets are available now.
Naoshi Mizuta began his career scoring the Street Fighter series where he was part of the sound team for Street Fighter Alpha in 1995. Working with Square, his first assignment was to score Parasite Eve II, then went on to be the main composer for Final Fantasy XI, with assistance from Nobuo Uematsu and Kumi Tanioka. Mizuta remained with the Final Fantasy XI project for over ten years, serving as the sole composer for the game's five expansions, and considers it his life's work.
Mizuta has also worked on several other projects for Square Enix, including Blood of Bahamut and Guardian Cross. He has also worked on many other games in the Final Fantasy series, including Final Fantasy: The 4 Heroes of Light, Final Fantasy XIII-2, Final Fantasy XIV, Final Fantasy XIV: A Realm Reborn, and Lightning Returns: Final Fantasy XIII.
Naoshi Mizuta will make an appearance alongside the New World Players on Sunday, May 28th at 1:00 pm for A New World: The Music of Final Fantasy at MomoCon 2017.
About MomoCon   
Founded in 2004 by Jessica Merriman and Chris Stuckey, then students at Georgia Tech, MomoCon has grown from a 700 person on campus event to the largest event in the southeast United States for fans of video games, animation, cosplay, comics and tabletop games.
With 28,300 unique and over 71,000 turnstile attendance in 2016, MomoCon is one of the fastest growing all ages conventions in the country. Fans of Japanese Anime, American Animation, Comics, Video Games, and Tabletop Games come together to celebrate their passion by costuming / cosplay, browsing the huge exhibitors hall, meeting celebrity voice talent, designers, and writers behind their favorite shows, games, and comics and much much more over this 4 day event.