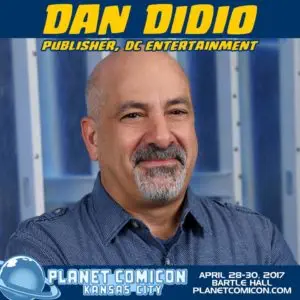 Dan DiDio, Publisher of DC Entertainment, joins the Planet Comicon 2017 guest lineup on April 28-30! Tickets are available for sale now at the link…
As Publisher, DiDio directs and oversees DC Entertainment's (DCE) publishing business under its key three imprints – DC, Vertigo, and MAD – in both print and digital formats, working alongside DCE's editorial, art and design, production, business development and sales groups. The Publishers also work in concert with DCE's Creative Affairs and Franchise Management teams to ensure that publishing continues to create content and help drive the media businesses that use comics as their source of inspiration.
Dan DiDio was named Publisher of DC Entertainment, alongside Jim Lee, in February 2010.
DiDio works closely with DCE editorial and creative teams to develop compelling storylines and characters that ring true to the iconic DC, Vertigo and MAD brands. During his tenure, DiDio has spearheaded many of the comic industry's most successful publishing events, including the widely acclaimed relaunch of DC Comics Rebirth, The New 52, and the hugely successful DC annual September publishing events such as 2013's villains lenticular variant covers. DiDio has also overseen many of the comic industry's bestselling titles and events including DC UNIVERSE: REBIRTH, BLACKEST NIGHT, IDENTITY CRISIS, SUPERMAN, BATMAN, JUSTICE LEAGUE and WONDER WOMAN.
DiDio is also charged with leading the company's unparalleled efforts to attract and develop upcoming talent. With the implementation of annual creator summits and various network opportunities throughout the years, DC Entertainment has become the premier destination for the comic book industry's top tier writers and artists.
Prior to his current post, DiDio served as Senior Vice President and Executive Editor, overseeing the editorial department for the DC line of comic book titles. DiDio charted the ongoing adventures of SUPERMAN, BATMAN, GREEN LANTERN, WONDER WOMAN, THE FLASH and scores of other heroes and villains.
Before joining DCE in January 2002, DiDio served as Senior Vice President, Creative Affairs for the computer animation company, Mainframe Entertainment. In this position, DiDio was charged with overseeing the development, distribution, marketing, promotion, merchandising and licensing of all Mainframe's television properties. Among the television projects he developed were Weird-Ohs, Beast Machines, Black Bull's Gatecrasher and Jill Thompson's Scary Godmother. He also served as a Story Editor for Reboot and War Planets.
Prior to Mainframe Entertainment, DiDio worked in a variety of positions in the television industry, including Capital Cities/ABC where he served as an Executive Director of ABC Children's Programming and Public Relations Manager for three New York based daytime dramas.
Previously announced guests include: Neal Adams, Amanda Conner, Jimmy Palmiotti, Chad Hardin, Cullen Bunn, Phil Hester, Ant Lucia, Jai Nitz, Frank Tieri, Freddie E. Williams II, and more.
For more information about the 2017 show, event photos, interviews and more, "Like" Planet Comicon on Facebook and follow @PlanetComicon on Twitter. Planet Comicon Kansas City is always available online at www.planetcomicon.com.