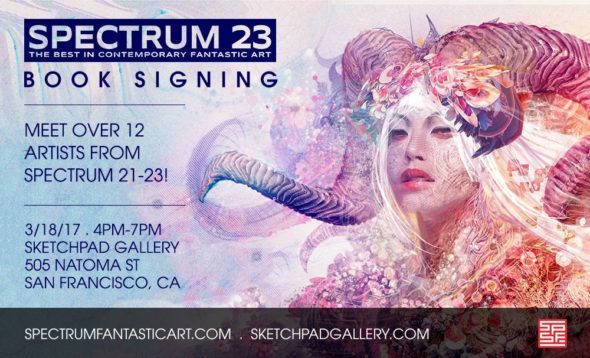 Press Release:
Sketchpad Gallery is proud to celebrate Flesk Publications' release of Spectrum 23, the definitive annual of fantastic art and illustration. Come join us on Saturday, March 18th at 4:00 PM for a Spectrum book signing event and celebration featuring some of the most talented artists working today!
Spectrum is the premier showcase of imaginative fantastic arts, featuring artists from the comic, film, horror, illustration, sculpture, conceptual art, fine art, and video game genres. We are so excited that a dozen featured artists will be in attendance, to meet fans and sign copies of Spectrum.
Confirmed artists to date include Steven Russell Black, Te Hu, Kellan Jett, Randy Gallegos, Michael Manomivibul, Paolo Rivera, Dug Stanat, Josh Viers, Chris Koehler, Jonathan Wayshak, Tiffany Turrill, and Alyssa Winans.
Sketchpad Gallery
505 Natoma St, San Francisco, California 94103
(415) 932-6208