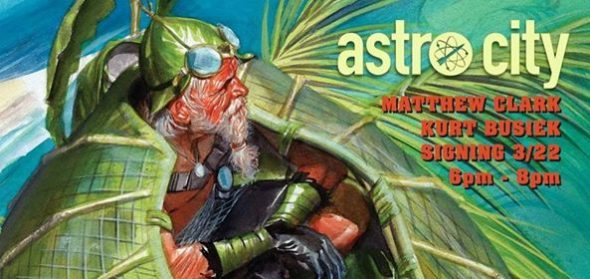 Press Release:
Bridge City Comics is excited to announce our release party for Astro City #42 on Wednesday, March 22, 2017 starting at 6:00 PM, with Portland locals Matthew Clark (artist) and Kurt Busiek (writer)! This event is free to the public.
Bridge City Comics will have copies of Astro City #42 available for purchase at this event, as well as other books from both Kurt and Matthew! Busiek and Clark will be in attendance to sign your copies! Refreshments will be served free of charge.
Kurt Busiek's Astro City is an American superhero anthology comic book series centered on a fictional American city of that name. Created and written by Kurt Busiek, the series is mostly illustrated by Brent Anderson, with character designs and painted covers by Alex Ross. The first series debuted in August 1995, published by Image Comics, and eventually moved to Homage Comics, part of the Wildstorm Signature Series. Issue #42 is illustrated by friend of the shop and all around great guy, Matthew Clark.
Bridge City Comics
3725 N Mississippi Ave, Portland, Oregon 97227
(503) 282-5484