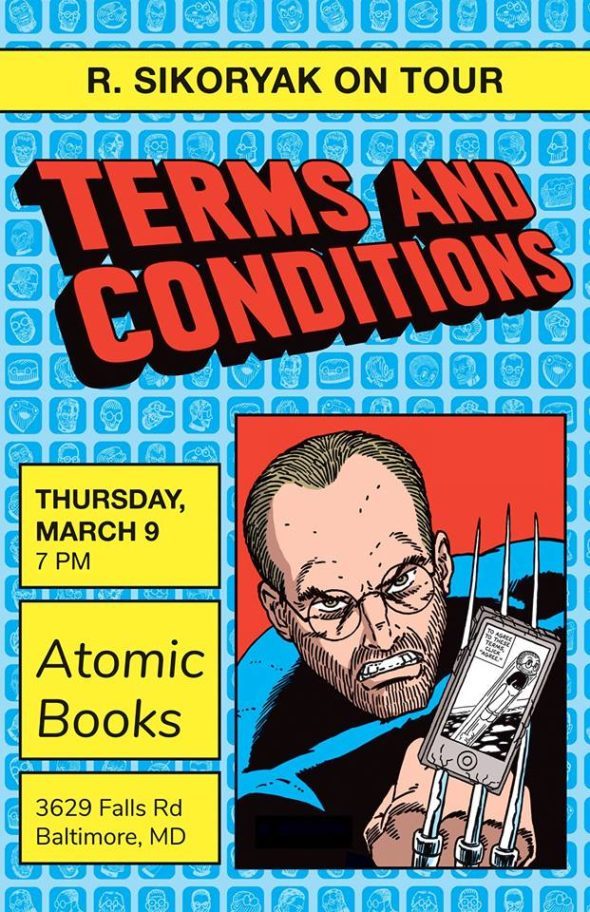 New Yorker cartoonist R. Sikoryak appears at Atomic Books on Thursday, March 9th at 7:00 PM for a presentation on the process behind Terms and Conditions, followed by a book signing.
For this project, Sikoryak tackles an infamously dense legal document, the iTunes Terms and Conditions. In a word for word 94-page adaptation, Sikoryak hilariously turns the agreement on its head – each page features an avatar of Apple cofounder Steve Jobs juxtaposed with a different classic strip such as Mort Walker's Beetle Bailey, or a contemporary graphic novel such as Craig Thompson's Blankets, Marjane Satrapi's Persepolis, or Kate Beaton's Hark! A Vagrant.

AUTHOR BIO
Cartoonist R. Sikoryak is the author of Masterpiece Comics (Drawn & Quarterly). His comics and illustrations have appeared in the New Yorker, The Onion, GQ, MAD, SpongeBob Comics, and Nickelodeon Magazine, as well as on The Daily Show with Jon Stewart. Sikoryak is in the speakers program of the New York Council of the Humanities, and he teaches in the illustration department at Parsons The New School for Design and at The Center for Cartoon Studies. Since 1997, he's presented his live cartoon slide show series, Carousel, around the United States and Canada. He lives in New York City with his wife, Kriota Willberg.
Atomic Books
3620 Falls Road, Baltimore, MD 21211
(410) 662-4444