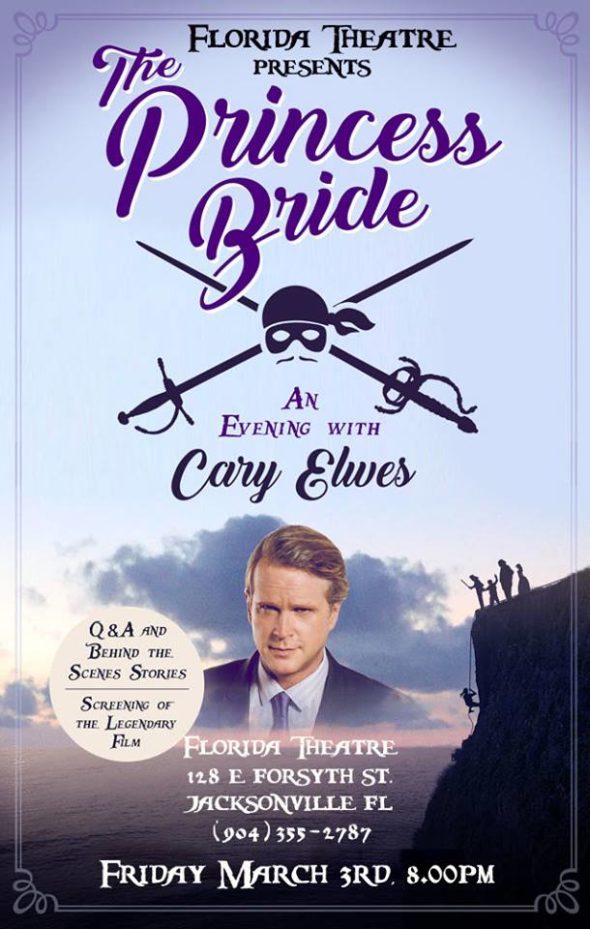 Actor Cary Elwes appears at the Florida Theatre on Friday, March 3, 2017 at 8:00 PM.
Press Release:
In this highly-anticipated event, fans of The Princess Bride will join the heroic Westley (actor Cary Elwes) in a behind-the-scenes look at life on and off the set of the classic film. After a screening of the iconic film, Elwes will engage in a moderated discussion on classic scenes, revealing never before shared secrets and tales of inconceivable antics! Journey back to the lands of Florin and Guilder; filled with adventure, romance and intrigue (and let's not forget Rodents of Unusual Size!).
Cary Elwes has been seen in a multitude of films, including Robin Hood: Men in Tights, Dracula, Lady Jane, The Crush, Twister, Liar, Liar and many more. Cary is hitting the road to give fans the once-in-a-lifetime chance to capture this piece of cinematic history.
Don't be a Humperdinck, make haste to see The Princess Bride: An Inconceivable Evening with Cary Elwes for a night you will always treasure.
The Florida Theatre
128 E Forsyth St, Jacksonville, FL 32202
(904) 355-5661