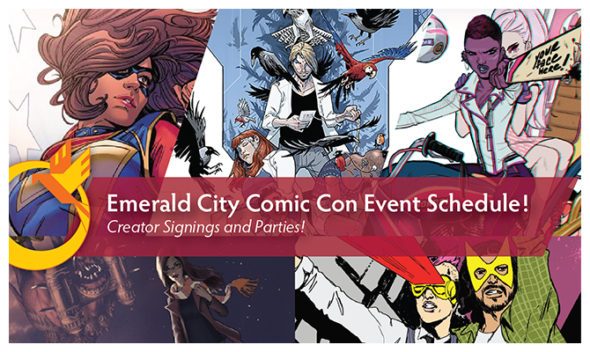 Writer/artist Gene Ha (Top Ten, JLA, Forty-Niners), artist Babs Tarr (Batgirl, Motor Crush), and writer G. Willow Wilson (Ms. Marvel, Air) appear at Phoenix Comics on Friday, March 3, 2017 from 7-9 pm!
About Babs Tarr:
Barbara (aka Babs) grew up in the sunny and beautiful Charleston, SC. She attended the Maryland Institute College of Art in Baltimore, MD where she received her BFA in Illustration. She currently is settled west in San Francisco, CA where she is living the dream working as a full time freelance illustrator! Babs has worked on Batgirl and her current project is the crazy good comic Motor Crush!
About G Willow Wilson:
G Willow Wilson is perhaps most well known around these parts for being a great public speaker (seriously if you haven't seen her Ted talk regarding Ms Marvel, go to her blog and take a look) and writer of the best selling Marvel series Ms Marvel. She's also written the Eisner award winning series Air and Cairo, and her first book Alif the Unseen was a New York Times notable book and winner of the 2013 World Fantasy Award for Best Novel.
About Gene Ha:
Gene Ha has worked since 1992 on books like Fables, Justice League, Cyclops & Phoenix, and Oktane. He won three Eisner awards for his collaboration with Alan Moore on Top 10 and one Eisner with Brad Meltzer for JLA #11. Recently, Gene has been writing his own book, Mae! The first collection is out in stores now, with the next arc set to start soon!
Phoenix Comics and Games
113 Broadway E, Seattle, WA 98102
(206) 328-4554