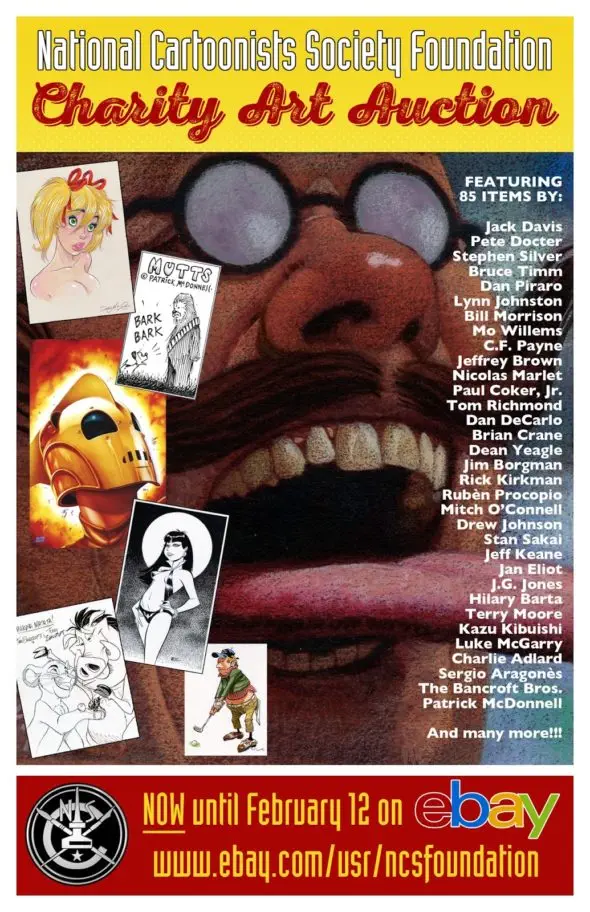 Press Release:
The National Cartoonists Society Foundation (NCSF) is pleased to announce that it has begun conducting its 2017 original art auction fundraiser using the Ebay platform.
There are over eighty items from the world of pop culture created by over seventy of the nation's top cartoonists, illustrators, and animators past and present. While primarily featuring original hand-drawn artwork, also available will be limited edition prints, posters, sculptures, books, and other collectibles featuring your favorite characters from comic books, comic strips, and movies.
Some of the artists represented in the sale include Bruce Timm, Sergio Aragonès, Stan Sakai, Jack Davis, Jerry Robinson, Hilary Barta, Drew Johnson, Charlie Adlard, J.G. Jones, Patrick McDonnell, Lynn Johnston, Kazu Kibuishi, C.F. Payne, Jan Eliot, Jim Borgman, Rick Kirkman, Nico Marlet, Mo Willems, Paul Coker, Jr., Bill Morrison, Dean Yeagle, Mort Walker, Dan DeCarlo, Dan Piraro, Stephen Silver, and Oscar-winning Pete Docter to name a few.
All the money raised will go to the NCSF, a fully licensed 501(c)(3) charity, to help them continue their work in assisting cartoonists in need, providing scholarships to students, and further promoting the cartoon arts which has been the hallmark of the National Cartoonists Society since its inception in 1946.
Listings began posting on Ebay.com under seller name NCSFoundation on February 2nd, and auctions will last for ten days, ending on Sunday, February 12.
All the art may be viewed immediately on a special website from the NCSF found at ncsfoundation.blogspot.com
In addition, the NCS Foundation is a member of PayPal Giving Works, which means that anyone who sells items on Ebay may select the NCSF as a recipient of a portion of their sales. Please consider donating to the NCSF when you list your items.