Press Release:
The biggest names in comics join ECCC's Autographing Area. Meet your favorite comic artists and authors including Matt Fraction, Kelly Sue DeConnick, Brian Stelfreeze, Scott Snyder, and Gail Simone. Also check out Artist Alley, where you can peruse original art based on your favorite comic book, television and movie characters. Grab a commission or shop prints all four days of Emerald City Comicon!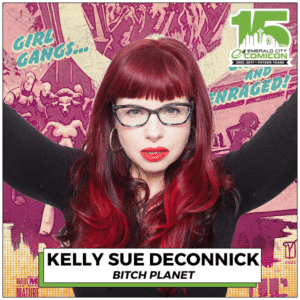 Kelly Sue DeConnick (writer): BITCH PLANET (Image), PRETTY DEADLY (Image), CAPTAIN MARVEL (Marvel), OSBORN (Marvel) got her start in the comic industry adapting Japanese and Korean comics into English. Five years and more than ten thousand pages of adaptation later, she transitioned to American comics with 30 DAYS OF NIGHT: EBEN AND STELLA, for Steve Niles and IDW. Work for Image, Boom, Oni, Humanoids, Dark Horse, DC, Vertigo and Marvel soon followed. Today, DeConnick is best known for surprise hits like Carol Danvers' rebranding as Captain Marvel and the Eisner-nominated mythological western, PRETTY DEADLY; the latter was co-created with artist Emma Ríos. DeConnick's most recent venture, the sci-fi kidney-punch called BITCH PLANET, co-created with Valentine De Landro, launched to rave reviews in December 2014. DeConnick lives in Portland, Oregon with her husband, Matt Fraction, and their two children.
Matt Fraction (writer): SEX CRIMINALS (Image), ODY-C (Image), CASANOVA (Image), SATELLITE SAM (Image), HAWKEYE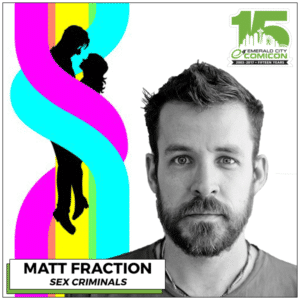 (Marvel) writes comic books out in the woods and lives with his wife, the writer Kelly Sue DeConnick, his two children, two dogs, a cat, a bearded dragon, and a yard full of coyotes and stags. Surely there is a metaphor there. He won the first-ever PEN USA Literary Award for Graphic Novels; he, or comics he's a part of, have won Eisners, Harveys, and Eagles, which are like the Oscars, Emmys, and Golden Globes of comic books and all seem about as likely. He's a New York Times best-selling donkus of comics like SEX CRIMINALS (winner of the 2014 Will Eisner Award for Best New Series, the 2014 Harvey Award for Best New Series, and named TIME Magazine's Best Comic of 2013), SATELLITE SAM, ODY-C, HAWKEYE (winner of the 2014 Will Eisner Award for Best Single Issue), and, oh, lordy, so many more.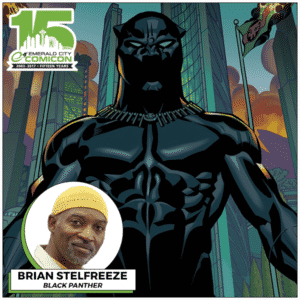 Brian Stelfreeze is an American comic book artist. Stelfreeze is a painter, penciller, inker and colorist and has worked for nearly every major American comic book publisher. He is one of the original members of Atlanta's Gaijin Studios. Stelfreeze began his career as the artist of the sci-fi miniseries CyCops in the mid-1980s. While Stelfreeze has been known throughout his career primarily as a cover artist, painting more than fifty cover illustrations for DC Comics' Shadow of the Bat, he's also produced a significant amount of sequential work, most notably of late with the miniseries Domino for Marvel Comics and Matador for DC Comics' Wildstorm imprint. Currently, Stelfreeze acts as art director for 12 Gauge Comics and occasionally has provided artwork for their series The Ride, and its prequel, Gun Candy. His latest work can be seen on the Walt Simonson-written Demon/Catwoman feature in DC Comics' Wednesday Comics. Stelfreeze is the artist on the 2016 revival of Marvel's Black Panther with writer Ta-Nehisi Coates.
Scott Snyder has written comics for both DC and Marvel, including the bestselling series AMERICAN VAMPIRE, BATMAN and SWAMP THING, and is the autho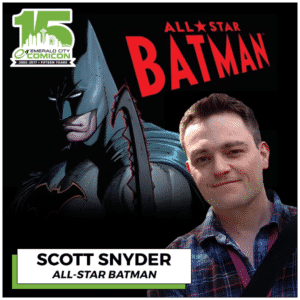 r of the story collection Voodoo Heart (The Dial Press). He teaches writing at Sarah Lawrence College, NYC and Columbia University. He lives on Long Island with his wife Jeanie, and his sons Jack and Emmett. He is a dedicated and un-ironic fan of Elvis Presley.
Gail Simone first caught the attention of the comics world on the world wide web, where her popular humor column "You'll All Be Sorry!" was featured on Comic Book Resources. It wasn't long before she was tapped to write The Simpsons for Bongo Comics, which led to working in the mainstream for Marvel Comics as the writer on Deadpool. Following her Marvel work, Simone began working for DC, where she is most known for her much-beloved run on BIRDS OF PREY. She has continued to write for DC and its many imprints on titles that include ROSE AND THORN, ACTION COMICS, TEEN TITANS, THE LEGION, VILLAINS UNITED, JLA CLASSIFIED, THE ALL-NEW ATOM, GEN13 and WELCOME TO TRANQUILITY. Her most recent projects include BATGIRL and THE MOVEMENT.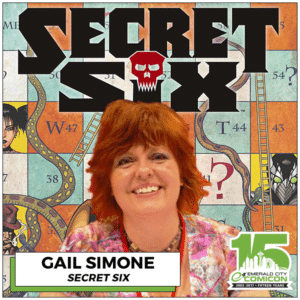 Emerald City Comicon (ECCC) is the premier comic book & pop culture convention in the Pacific Northwest. Join us March 2-5, 2017. For tickets and more information please go to the website: www.emeraldcitycomicon.com