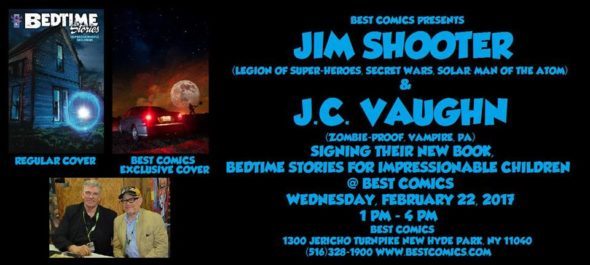 Creators Jim Shooter and J.C. Vaughn will be at Best Comics Wednesday, February 22nd, from 1:00 to 4:00 PM to sign their latest book Bedtime Stories for Impressionable Children! Come in and get your copy signed and pick up the BEST COMICS exclusive cover! Representatives from CBCS will be on hand to authenticate signatures and accept books for submission!
Jim Shooter is a legendary creator who has been working in the comics field since he was 13 years old! His earliest professional works include Legion of Super-Heroes and Superboy for DC Comics! In the mid seventies Shooter began working for Marvel Comics and eventually became Marvel's editor-in-chief, overseeing successful runs on Uncanny X-Men by Chris Claremont and John Byrne, Daredevil by Frank Miller, Thor by Walter Simonson and Amazing Spider-Man by Roger Stern! Later Shooter would go on to found Valiant Comics, Defiant and Broadway Comics where he was the principal creator of those companies' characters and universes. He is currently the EIC of Illustrated Media.
J.C. Vaughn is the VP of publishing for Gemstone Publishing and is the creator of a plethora of excellent comics including Zombie-Proof, Vampire, PA, McCandless & Company, Twenty First Century Romances, Dead Inspector, Desperate Fences, the Bill Collector and the comic strip Antiques with many more to come!
Best Comics
1300 Jericho Tpke, New Hyde Park, NY 11040
(516) 328-1900