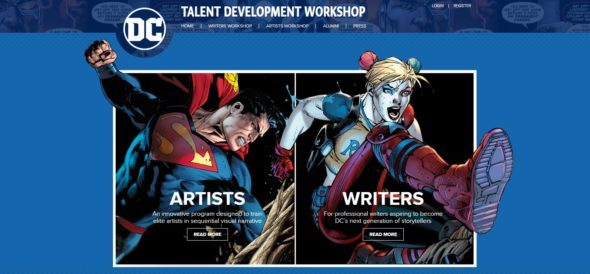 Press Release:
In an effort to find new and aspiring comic book talent, DC Entertainment's Talent Development Team is kicking off the 2017 Artists Workshop today, with online applications being accepted now through March 1st at DCComicsTalentWorkshop.com. DC's Writers Workshop will begin accepting online applications on March 1, through March 31, 2017.
DC's Talent Development Workshops are led by an all-star talent line-up including Jim Lee, Scott Snyder, Klaus Janson and Andy Kubert. The series of workshops are designed to give access and a voice to new and prospective talent, providing an opportunity to showcase their work following intensive DC workshop sessions.
DC's Talent Development website offers extensive tips, advice and recommended reading to help potential applicants navigate the submission process. Both workshops will take place in fall 2017.
"Following a highly successful inaugural year that saw DC Workshop alum receiving numerous assignments on our books, we're excited to embark upon a new search for up and coming talent with the 2017 Workshops," stated DC Entertainment Vice President of Talent Development, Bobbie Chase.
About the Artists Workshop
The 2017 Artists Workshop was developed by DC with world-renowned artists Jim Lee, Klaus Janson, and Andy Kubert. Visit DCComicsTalentWorkshop.com/artists-workshop for more information on the program and to see our newest DC Artist Workshop alums.
Competitive candidates will have an established portfolio of sequential art. For the artists selected via the online submission process, the Workshop will provide the knowledge and exposure required to cross the threshold into the competitive world of comic book publishing. Chosen artists will be asked to complete art assignments that will be critiqued by several top DC Artists. If the artists achieve the level of work required for the course they will then be invited to a two-week, intensive workshop at DCE's Burbank offices.
About the Writers Workshop
The 2017 Writers Workshop was developed by DC with bestselling writer Scott Snyder. For selected candidates, the 2017 DC Writers Workshop will run in the summer/fall as an online real-time, weekly interactive seminar, for thirteen consecutive weeks. Each seminar will teach a new skill essential for surviving and excelling in this highly competitive field.
Upon completion of the program, DCE's Talent Development group will ensure successful participants are considered for positions on current DC titles.