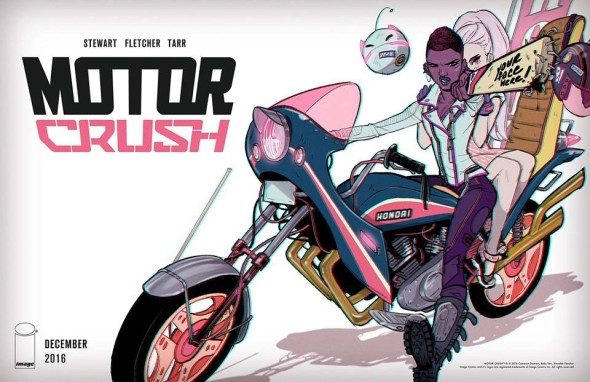 Writers Cameron Stewart and Brenden Fletcher appear at The Beguiling on Wednesday, December 7th, 2016 from 6:oo till 8:00 PM for celebrate the first issue of MOTOR CRUSH from Image Comics.
Press Release:
The Beguiling is thrilled to welcome a special in-store signing featuring Brenden Fletcher and Cameron Stewart, 2/3rds of the team for the brand new Image Comics series MOTOR CRUSH! You may remember Brenden, Cameron, and artist Babs Tarr from their work on the acclaimed BATGIRL OF BURNSIDE relaunch for DC 52? Well they're doing their own thing now and it's going to be an amazing book, and we're lucky enough to have Cameron and Brenden in-store on release day to sign the first issue!
The Beguiling will have a BUNCH of copies on hand of Motor Crush #1 for the signing, and Brenden and Cameron might just be bringing a special few items as well! Of course we'll also have a selection of previous work by the team available for purchase too, like Batgirl, Gotham Academy, Fight Club 2, and more! Cameron and Brenden will be signing on the second floor of the shop.
The Beguiling
601 Markham Street, Toronto, ON M6G 2L7
416-533-9168