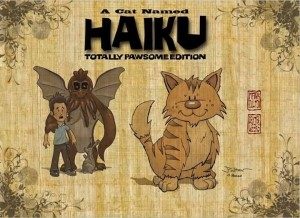 Mark Poulton appears on Saturday, December 3rd for a reading & signing of his children's book "A Cat Named Haiku". There will also be an activities table where your little ones can color their own Haiku paper mask to take with them!
Mark is a comic book writer/children's book author who has worked for DC Comics, Image Comics and Arcana Studio. He most recently scripted SAVAGE HAWKMAN for DC Comics, as part of the New 52. After his Image Comics' series, AVENGELYNE, finished publication, it ran as a webcomic at Keenspot.com where it has amassed a readership over 500,000.
His children's book series, A CAT NAMED HAIKU, was nominated for Best Single Issue Story in the 2011 Eagle Awards, and is currently in production as a series of animated shorts for Hooplakidz TV. The latest installment of A CAT NAMED HAIKU is entitled CTHULHU LOVES KITTENS and is part of the new A CAT NAMED HAIKU hardcover collection. Some of Mark's other credits include Image Comics' BRIGADE and Arcana Studio's KONI KONFIDENTIAL.
Amalgam Comics & Coffeehouse, Inc.
2578 Frankford Ave, Philadelphia, PA 19125