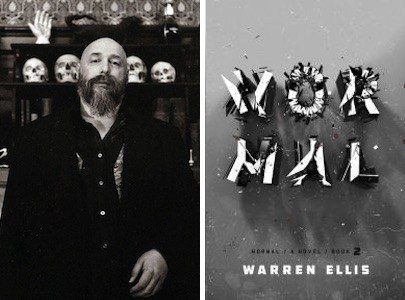 Author Warren Ellis (Planetary, Transmetropolitan) appears at Flyleaf Books on Friday, December 2nd at 7:00 PM to sign his latest novel NORMAL! Tickets available at the link.
Please note: Only copies of "Normal" purchased at Flyleaf will be signed. Sorry, no other books or memorabilia can be signed due to time constraints. In the unlikely case the event is canceled, books will still be supplied and can be picked up at Flyleaf
Warren Ellis is the author of the New York Times bestselling novel Gun Machine and the underground classic Crooked Little Vein. He is also the award-winning creator of a number of iconic, bestselling original graphic novels, including Red, Ministry of Space, Planetary, and Transmetropolitan, and has been behind some of the most successful reimaginings of mainstream comic superheroes, including the Fantastic Four and Iron Man. He has written extensively for Vice, Wired, and Reuters on technological and cultural matters, and is working on a nonfiction book about the future of cities for FSG Originals. He lives on the southeast coast of England.
About the book:
A smart, tight, provocative techno-thriller straight out of the very near future–by an iconic visionary writer
Some people call it "abyss gaze." Gaze into the abyss all day and the abyss will gaze into you.
There are two types of people who think professionally about the future: Foresight strategists are civil futurists who think about geoengineering and smart cities and ways to evade Our Coming Doom; strategic forecasters are spook futurists, who think about geopolitical upheaval and drone warfare and ways to prepare clients for Our Coming Doom. The former are paid by nonprofits and charities, the latter by global security groups and corporate think tanks.
For both types, if you're good at it, and you spend your days and nights doing it, then it's something you can't do for long. Depression sets in. Mental illness festers. And if the abyss gaze takes hold there's only one place to recover: Normal Head, in the wilds of Oregon, within the secure perimeter of an experimental forest.
When Adam Dearden, a foresight strategist, arrives at Normal Head, he is desperate to unplug and be immersed in sylvan silence. But then a patient goes missing from his locked bedroom, leaving nothing but a pile of insects in his wake. A staff investigation ensues; surveillance becomes total. As the mystery of the disappeared man unravels in Warren Ellis's Normal, Adam uncovers a conspiracy that calls into question the core principles of how and why we think about the future–and the past, and the now.
Flyleaf Books
752 Martin Luther King Jr Blvd, Chapel Hill, NC 27514
(919) 942-7373