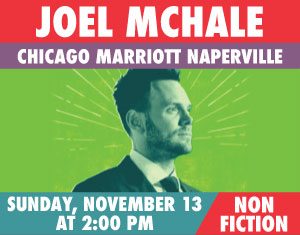 Joel McHale presents his new book on Sunday, November 13th at 2:00 PM. Tickets available here…
In this unrestrained aspirational memoir, Joel McHale (Community; The Soup) reveals heretofore private tales of his youth: his many, hilarious boyhood head injuries, his early love for performing, whether or not those two things are related, and much more. In addition to giving his readers a completely honest glimpse at the delightful trappings of wealth and fame, McHale imparts the wisdom of his experiences so that YOU, the reader, can ALSO become a real celebrity
Join us for a conversation and book signing to celebrate "Thanks For the Money!
EVENT DETAILS
Conversation and Q&A will precede a book signing. All tickets must be purchased through Brown Paper Tickets using the link above, not through our Naperville location. You will need to bring a printed copy of the ticket to the event.
Your ticket number/seat number is your reserved place in the signing line. You will line up in order of that number and then get to meet Joel and have your book signed.
Here's what you get with each ticket:
*Admittance for one person
*A copy of the new book, "Thanks For the Money" handed to you when you arrive
*A presentation
*A reserved place in the signing line to get your book autographed
*The opportunity to meet Joel
*A photo of you and Joel
Here's what you shouldn't expect:
*A personalization (your name in the book)
*An autograph in the book that you bought elsewhere
*An autograph on ANY piece of memorabilia
Chicago Marriott
1801 N Naper Blvd, Naperville, Illinois 60563
(630) 505-4900