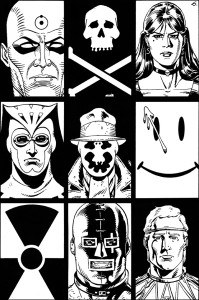 Artist Dave Gibbons will be signing two new editions of the classic Watchmen at our London Megastore on Friday 25th November at 6:00pm.
Watchmen: Noir Collects the original 12-issue Watchmen series – in black and white for the first time, highlighting Dave Gibbons dark, moody artwork as never before!
Watchmen: Collector's Edition Box Set reprints the bestselling graphic novel of all time is back in a new, 12-volume box set collector's edition, just in time for the series' 30th anniversary!
Watchmen: Artefact Edition will also be available.
Dave Gibbons is one of Britain's finest comic artists, whose most famous work is the multi-award- winning Watchmen. Since then he has drawn series including Batman, Doctor Who, and Give Me Liberty, and has written Batman vs. Predator, Green Lantern and World's Finest, as well as his own graphic novel The Originals.
Forbidden Planet London Megastore
179 Shaftesbury Avenue, London, WC2H 8JR
0207 420 3666