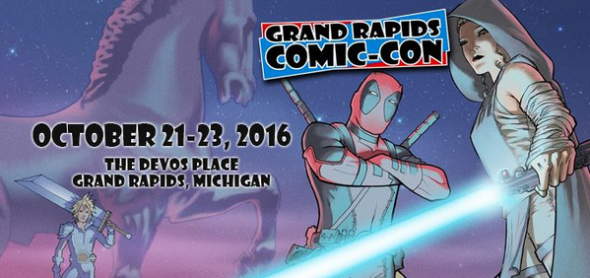 Press Release:
The next Grand Rapids Comic-Con will be held on October 21-23, 2016, at the DeVos Place in downtown Grand Rapids, Michigan.
Hours:
Friday, October 21: 2-8 pm with after-hours programming until 11 pm
Saturday, October 22: 10 am-7 pm with after hours programming until 11 pm
Sunday, October 23: 10 am until 5 pm
Ticket Prices:
3-day pass: $40 advance, $50 at door
Friday only: $15 advance, $20 door
Saturday only: $20 advance, $25 door
Sunday only: $17 advance, $22 door
VIP pass: $149 advance only
Link to tickets is here.
Celebrity Guest List:
Wil Traval: "Jessica Jones", "Arrow", "Once Upon A Time"
Denise Crosby: Lt. Tasha Yar in "Star Trek: The Next Generation" and the leader of Terminus in "The Walking Dead"
Bruno Gunn: Brutus in The Hunger Games: Catching Fire
Sean Maher: Dr. Simon Tam in "Firefly", Nightwing in several DC Comics animed Batman movies
Steve Blum: Zeb Orrelios in "Star Wars Rebels", Spike Spiegel in "Cowboy Bebop", Wolverine in numerous X-Men animated features
Bryce Papnebrook: Eren Jaeger in "Attack On Titan", Rin in "Blue Exorcist"
Austin St. John: The original Red Ranger in "Mighty Morphin Power Rangers"
Steve Cardenas: Rocky DeSantos/Red Ranger in "Mighty Morphin Power Rangers"
Robin Shelby: Slimer in Ghostbusters 2 and Lady Slimer in Ghostbusters (2016)
Russell Hodgkinson: Doc in "Z-Nation"
Felix Silla: "Buck Rogers In The 25th Century", "The Addams Family", Star Wars: Episode VI–Return Of The Jedi
Rob Miller: "Face Off"
Dr. Mortose: local horror host
Teenage Mutant Ninja Turtles (1990) Cast Reunion!
Michelan Sisti * Leif Tilden * Josh Pais
Comic Guest List:
Kevin Eastman: co-creator of the Teenage Mutant Ninja Turtles
Jae Lee: Batman/Superman, Before Watchmen: Ozymandias
Bob Camp: creatiuve writer/director of Ren and Stimpy
Joe Rubinstein: Wolverine, Micronauts, The Official Handbook of the Marvel Universe
Stuart Sayger: The Walking Dead, Bionicle
Tony Kordos: Batman and Robin Eternal
Rodney Ramos: Transmetropolitan
Steve Lieber: Whiteout, The Spectacular Foes Of Spider-Man
Jeff Balke: Deadpooh, Fantastic Four
Allen Bellman: Golden Age artist for Captain America
Greg Weisman: Gargoyles, Star Wars Rebels
Vince Locke: Sandman, Deadworld
J. David Spurlock: publisher on Vanguard Publishing
Tony Isabella: Black Lightning, 1000 Comic Books You Must Read
K. Lynn Smith: Plume, Cards Against Humanity
Jeff Carlisle: The Guild, Star Wars, Doctor Who
William Messner-Loebs: The Flash, Wonder Woman
Dirk Manning: Legends Of Oz, Nightmare World
Jason Moore: Batman: Haunted Gotham, The Crusades
Arvell Jones: All-Star Squadron, The Avengers
Jeff Balke: Fantastic Four, Deadpooh
Comfort and Adam: The Uniques, Rainbows In The Dark
Jon Alderink: Superman, Justice League: Generation Lost
Dan Monroe: children's book illustrator
Tyler and Sara Sowles: Durontus: The Lost Serpent, G-Fan magazine
…plus an extensive artist alley!
Best Selling Authors:
Anne Bishop: The Others, Black Jewels
Susan Dennard: Truthwitch, Something Strange and Deadly
Adam Bray: Marvel, Star Wars technical manuals
Eric Telchin: Black and White Factory
Courtney Allison Moulton: Angelfire
MarcyKate Connolly: Monstrous, Ravenous
New! Kids Area in Exhibit Hall C, including a huge LEGOs display, Hot Wheels track, Star wars coloring area, two science exhibits, and a ton more. Check it out!
Plus:
100,000 square foot vending hall
Car show
Film festival (link here)
Anime room
Art show
Costume contest
Electronic and board/card gaming rooms
501st/Ghostbusters/Transformers
Comic and 1950's sci-fi displays
100-plus hours of programming
More information: www.grcomiccon.com
Facebook: www.facebook.com/grandrapidscomiccon
Twitter: www.twitter.com/grcomiccon
Pinterest: www.pinterest.com/grcomiccon