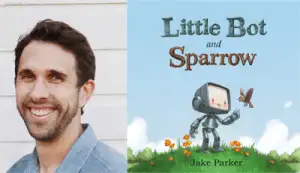 Jake Parker appears at Changing Hands Books to sign Little Bot and Sparrow on Sunday September 25th at 11:00 AM
The #1 New York Times bestselling author-illustrator visits with his new picture book, a story of friendship that can inspire anyone, even robots, to dream.
When Little Bot is thrown out with the garbage, he finds himself in a strange new world. Fortunately, Sparrow is there to take him under her wing. Together, they explore the forest, share adventures, and learn what it means to be forever friends.
This sweet and lasting tale by Jake Parker beautifully captures the happiness and love that can come from making your first true friend―and the courage it takes when it's time to say goodbye.
ABOUT THE AUTHOR
JAKE PARKER is an illustrator and cartoonist whose picture books include The Girl Who Wouldn't Brush Her Hair, The Tooth Fairy Wars, The Astonishing Secret of Awesome Man, and the #1 New York Times bestseller The Little Snowplow. He also created the Missile Mouse graphic novels, published by Scholastic. He lives in Utah with his wife and their five children
Changing Hands Bookstore
300 W Camelback Road, Phoenix, AZ 85013
602.274.0067