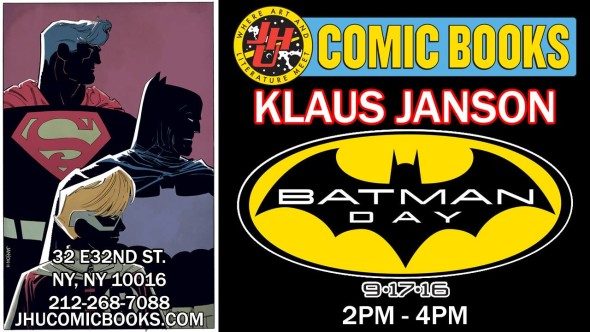 Artist Klaus Janson (Dark Knight Returns, Daredevil) signs at JHU Comic Books on Saturday September 17, 2016 from 2:00 till 4:00 PM!
With some Batman freebies to get, a 25% off of all Batman items sale and Klaus signing, this will be the best Batman Day, ever!
With an amazing body of work, Kalus Janson is one of the most revered and beloved Batman artists around! Having worked on such great and classic books like, The Dark Knight Returns, Detective Comics, Batman: Legends of the Dark Knight, Daredevil and so many more fantastic books, we are delighted and honor to have him sign with us to celebrate Batman Day!
*Purchase of a Batman item required to participate in signing event. Up to 5 items to be signed by Klaus at a time, per person.
**Must be a member of the free JHU Comic Books membership program to participate in sale. Valid on in stock items only. Discount can not be applied to consignment items. Some restrictions may apply.
JHU Comic Books MANHATTAN
32 East 32nd Street, New York, NY 10016
(212) 268-7088