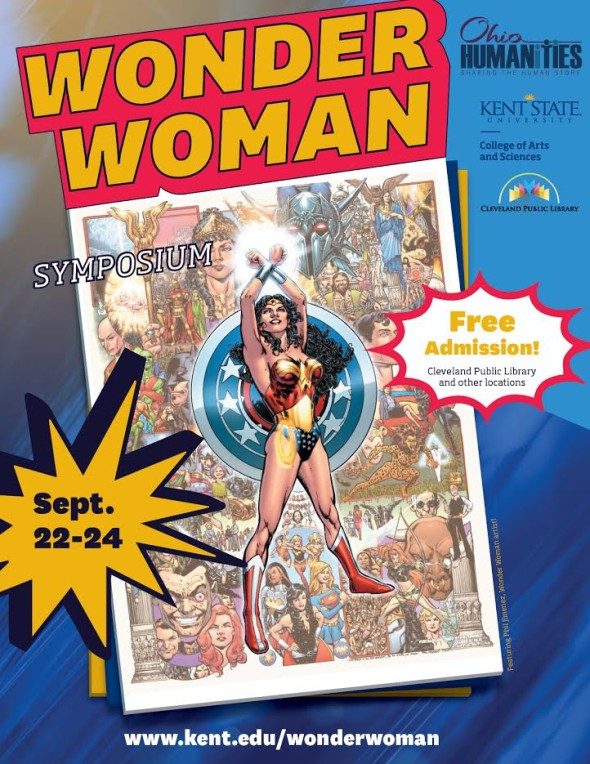 Press Release:
In honor of the 75th anniversary of the comic book super heroine Wonder Woman in 2016, Kent State University and the Cleveland Public Library will partner to celebrate the intersections of public literacy, comics, and feminism in a jointly sponsored symposium. The 2016 Wonder Woman Symposium partners two powerful public institutions in Northeast Ohio, taking up the historical trends that have changed the world of comics, American popular culture, and feminism. Centering on the figure of Wonder Woman and her heirs, this symposium will feature plenary addresses by major creators in the industry and historians of the comics world, and workshops by comics creators on creating graphic narratives and comics. This forum seeks to highlight both regional and national talent. Our celebration of Wonder Woman's anniversary pays respect to "herstory" while recognizing her perpetual relevance to our present day, and beyond.
This conference is made possible, in part, by the Ohio Humanities, a state affiliate of the National Endowment for the Humanities. Any views, findings, conclusions, or recommendations expressed in this conference do not necessarily represent those of the National Endowment for the Humanities.
FULL SCHEDULE:
THURSDAY, SEPT. 22, 2016
Cleveland Public Library, Louis Stokes Wing Auditorium, 325 Superior Ave, Cleveland OH 44114
6:00-7:30pm
Amanda Conner and Jimmy Palmiotti (via skype), Creative team of Harley Quinn, Starfire, and Harley Quinn and Power Girl
Phil Jimenez, Writer/Artist of Wonder Woman and Superwoman, and artist of Astonishing X-Men, New X-Men, Amazing Spider-Man and The Invisibles
Carol & John's Comic Book Shop, 17462 Lorain Ave, Cleveland, OH 44111
8:00-10:00pm- Artist and Author Book Signing with Phil Jimenez, Cameron Stewart and other comics creators
FRIDAY, SEPT. 23, 2016
Cleveland Public Library, Louis Stokes Wing Auditorium, 325 Superior Ave, Cleveland OH 44114
3:00-4:45pm
Joan Ormrod, Co-editor of the Journal of Graphic Novels and Comics and co-editor of Superheroes and Identities
Cameron Stewart, Writer/Artist of Batgirl, Motor Crush and artist of Batman and Robin and Fight Club 2
5:00-6:00pm- Trina Robbins,  Author of The Great Women Superheroes, Wonder Woman, and editor of Babes in Arms and The Complete Wimmen's Comix
6:00-6:45pm- Roundtable Discussion with Presenters
SATURDAY, SEPT. 24, 2016
Cleveland Public Library, Louis Stokes Wing Auditorium, 325 Superior Ave, Cleveland OH 44114
9:00-9:30am- Coffee provided by Rising Star
9:30-10:45am- Genevieve Valentine, Author of Catwoman, Xena: Warrior Princess and the novels The Girls at the Kingfisher Club and Mechanique: A Tale of the Circus Tresaulti
11:00am-12:15pm- Carol Tilley, Author of "Seducing the Innocent: Fredric Wertham and the Falsifications That Helped Condemn Comics" and a Will Eisner Comics Industry Awards Judge
12:15-2:00pm- Lunch and Wonder Woman Record Breaking Event (at the Eastman Garden)
2:00-3:15pm- Laura Siegel, Daughter of Jerry Siegel, co-creator of Superman. A former correspondent for CNN, she has won over 100 awards including 13 Emmys and 8 New York Festival Awards
3:30-4:45pm- Peter Coogan, Director of the Institute for Comics Studies and author of Superhero: The Secret Origin of a Genre and co-editor of What is a Superhero?
5:00-5:45pm- Roundtable Discussion with Presenters
6:00-6:45pm- Meet and Greet with Presenters