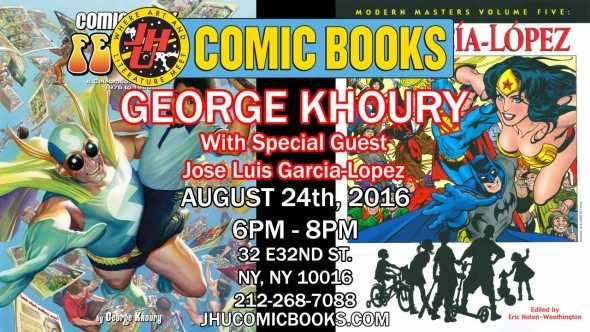 Press Release:
JHU Comic Books is excited to present a very special signing event with George Khoury and Jose Luis Garcia-Lopez on Wednesday, August 24th at 6:00 PM!
Focusing in on the era of comics from 1976-1986, Comic Book Fever focuses in on what made that time period so great, why we're so nostalgic for it and how it shaped so many of our young minds!
Author George Khoury will be on hand to sign the book as well as one of the greats he featured in the book, Jose Luis Garcia-Lopez, for a limited time!
*Purchase of Comic Book Fever required to participate in event and there will be a limit of five (5) comics per person signed for Jose Luis Garcia-Lopez
COMIC BOOK FEVER SC
TWOMORROWS PUBLISHING
George Khoury presents a "love letter" to his personal golden age ofcomics, 1976-1986, covering all the things that made those comics great – the top artists, the coolest stories, and even the best ads! Remember the days when every comic book captured your imagination, and took you to new and exciting places? When you didn't apologize for loving the comic books and creators that gave you bliss? Comic Book Fever captures that era, when comics offered all different genres to any kid with a pocketful of coins, at local establishments from 7-Elevens to your local drug store. Inside this full-color hardcover are new articles, interviews, and images about the people, places, characters, titles, moments, and good times that inspired and thrilled us in the Bronze Age.
JHU Comic Books MANHATTAN
32 East 32nd Street, New York, NY 10016
(212) 268-7088