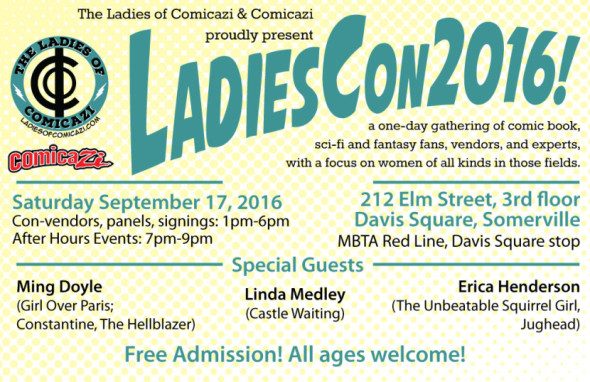 The Ladies of Comicazi are pleased to invite you to our very first convention: LadiesCon 2016!
LadiesCon is a one-day celebration of women of all kinds and their work in comic books, science fiction, fantasy, cosplay, and many other realms of pop culture. Special guests include Linda Medley (Castle Waiting), Erica Henderson (The Unbeatable Squirrel Girl, Jughead), and Ming Doyle (Girl Over Paris, Constantine: The Hellblazer). More guests and vendors will be announced as the event approaches.
Admission is FREE! All are welcome!
IMPORTANT UPDATE: We have added tickets for LadiesCon – due to the huge response to the event, we think this will help us keep the day a safe and fun one for all. The event is still free, but we will be able to better track attendance; get tickets at the link…
LadiesCon 2016 will be held on Saturday, September 17, 2016 on the third floor of 212 Elm Street in Somerville, MA. It's an easy walk from the Davis Square Red Line stop and mere steps away from Comicazi.