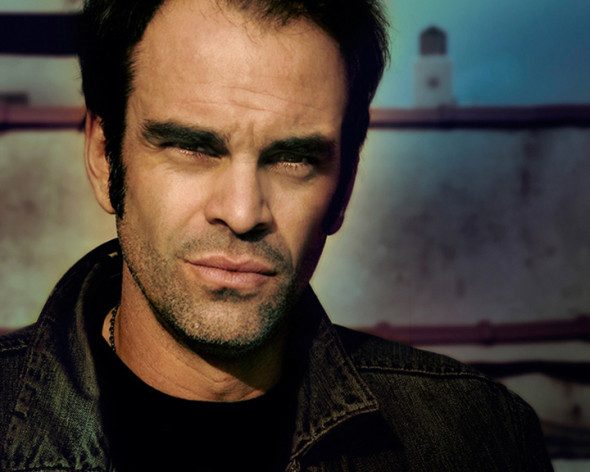 If you don't recognize his face as soon as you see him, Steven Ogg's voice will certainly give him away. The charismatic actor gained notoriety portraying the critically acclaimed 'Trevor Phillips' in Rockstar Games' Grand Theft Auto V.
Originally from Calgary, Alberta, Canada, Ogg has been acting nearly all his life. Some recent notable appearances include Grand Theft Auto V, Comedy Central's Broad City, and AMC's Better Call Saul. Fans of AMC's mega-hit, The Walking Dead, know Ogg as one of the 'Saviors' that led Rick and company into Negan's trap. (Keep an eye out for Ogg when TWD returns this fall as he has been filming for their 7th season). Ogg will also be seen this fall in the HBO series Westworld, an adaptation of a Michael Crichton novel and 1973 sci-fi film of the same name. Ogg will be appearing at UmiCon Daytona next month!
Here is a taste of our Q&A…
CS: Do you have any preference between doing voice work to traditional acting roles?
SO: The voice acting thing, it gets that sort of label, but it's something I've never recognized because I think acting is acting. Really, you're either working or you're not. That's the difference.
…With these different mediums, like obviously with GTA, the video game was a motion capture, which is basically an animated performance. So take any performance, be it theater, film, TV, or any other medium and animate it, and that's what the video game experience was, primarily. Of course, there was some recorded dialogue, where we're just in the car talking, and that's strictly voice-over. But certainly, any of the voice acting, for me, it's still words that you have to communicate. That's your job.
CS: And, you started with community theater, is that correct?
SO: I did, yeah. I started in Alberta, Canada. The theater is where I began. And that's the same thing; you get a play, you read, and you have to communicate those words and create a character, and serve the writer.
CS: Have you ever done a musical?
SO: I love music. I'm not a musical theater guy, but I've always wanted to do, actually, something where you do like [pauses] Moulin Rouge! You remember when Baz Luhrmann did Moulin Rouge! with Ewan McGregor? That! I mean, Ewan McGregor [sighs] It's like the guy smiles and I melt. I'm like, Oh your beautiful smile! I love that idea of doing something like that, but I thought even their voices were too good! Like it would be interesting to do something where you have-I'm trying to come up with a better example-but where you have someone break into song, but they're not…It's not about the quality of the voice, it's just about the passion.
… You just start singing cause you love that song or it represents another way to communicate. I'm always quoting song lyrics and singing away, but as far as me going and doing Phantom of the Opera with Norm Lewis? No. No, thanks.
CS: [On TWD season 6 finale] Does anybody come up to you and start doing that whistle?
SO: Interestingly, no. People talk about it, like 'that whistle creeps me out' [starts whistling into the phone]
CS: That was one of the creepiest things!
SO: Yeah, they created something really good and creepy with that one. It's weird cause like, most people come up and they either want me to be mean to them, or just curse at them, or pretend to strangle them. And I'm just like, really? Like, I'm the hug-it-out-guy. I mean, [in a 'Trevor'-sounding voice] I'll hold you for an uncomfortably long time, maybe a little too close than you want. But I ain't gonna strangle ya or swear atcha. I don't want to do that.
[On his upcoming UmiCon Daytona appearance this September 9-11, 2016]
SO: Certainly, my priority is always work. So, if I have to be somewhere shooting and I'm working Monday, well then my focus is on working Monday, not the cons. But, when I have the time I certainly love to do them! And I certainly feel very grateful for the opportunity to do them. And, to meet people is great.
CS: I know that your fans are grateful that you do take the time to come and do that. We appreciate it.
SO: Well, it's a mutual appreciation zone.
If you want to take part in the "appreciation zone", be sure to come out and meet Steven Ogg, and many more, at UmiCon Daytona September 9-11, 2016.
We want to thank Steven Ogg for taking the time out of his busy schedule to give a quick interview. To hear the interview in its entirety, Click Here.