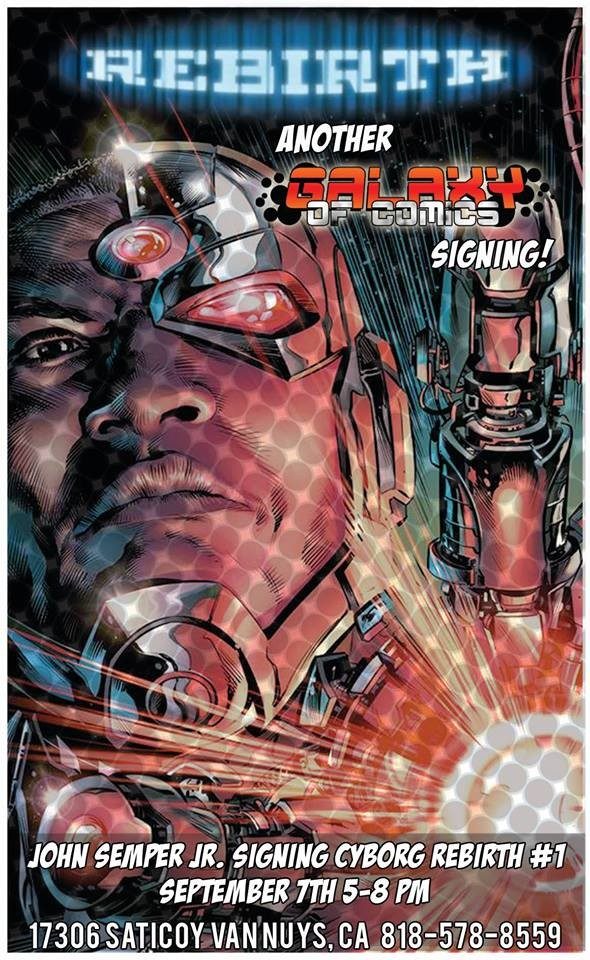 Press Release:
Galaxy of Comics Proudly Presents Writer John Semper Jr SIGNING his new book, Cyborg: Rebirth #1, September 7th, 2016!!!
* Victor Stone was once a star athlete and brilliant student with a bright future. But after a tragic accident destroyed over half of his body, Victor was kept alive by merging flesh with advanced technology. Today he is the Justice League co-founder called Cyborg. But is the young hero a man…or a machine that merely believes it's a man?
JOHN SEMPER JR (writer, Spider-Man: The Animated Series, Static Shock) is a screenwriter, producer and story editor with numerous credits in animation for television. He has worked for such diverse companies as Disney Studios, Warner Bros. Animation and Hanna-Barbera Productions during a career which has involved the development of projects for Jim Henson, George Lucas, Stan Lee, Rob Minkoff and others. Semper even created the English-language dialogue for two of Hayao Miyazaki's acclaimed animated features, Laputa: Castle in the Sky (1986) and Kiki's Delivery Service (1989) and we are so excited to have him in-store!
Stop by the Galaxy of Comics as we host celebrated writer John Semper Jr, Wednesday, September 7th from 5 to 8 PM!!!
Galaxy of Comics
17306 Saticoy Street, Van Nuys, CA 91406
(818) 578-8559