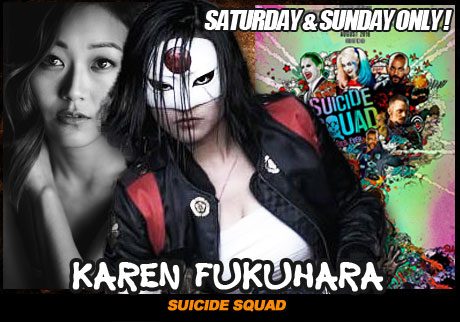 NEWS RELEASE
For Immediate Release
Tuesday, August 2, 2016
SUICIDE SQUAD CAST MEMBER JOINS SPOOKY EMPIRE AT THEIR ANNUAL DARK SIDE OF COMIC CON CONVENTION
Katana Makes Her Way to Orlando Following The Release Of This Highly-Anticipated Film
ORLANDO – Karen Fukuhara, better known for her role as Katana, in this summer's hit blockbuster Suicide Squad, will be part of Spooky Empire's dark side of comic con guest list at this year's Fall Convention, which will take place at the Orange County Convention Center, Friday, October 7 – Sunday October 9, 2016. Fukuhara is one of many guests recently announced alongside Doug Bradley "Pinhead" from Hellraiser, Kane Hodder "Jason" from Friday the 13th, Tony Moran "Michael Myers" from Halloween, Bill Johnson "Leatherface" from The Texas Chainsaw Massacre, Robert Englund "Freddy Krueger" from A Nightmare on Elm Street and Zoe Bell from Death Proof and Kill Bill.
Fukuhara recently completed filming the role of Katana in Suicide Squad opposite Will Smith, Margot Robbie, Jared Leto, Viola Davis and Jai Courtney scheduled to be released later on this week. Fukuhara will be appearing at Spooky Empire two days, October 8-9.
As previously announced, Spooky Empire has changed locations in order to accommodate even more attendees. Nearly 14,000 fans, guests, and professionals are expected to attend this year's annual fun and horror friendly Halloween gathering. Further details about guest participation will be posted on the Spooky Empire website as soon as they become available.
"The fun is just beginning!" said Pete Mongelli, owner and event producer of Spooky Empire. "We will be announcing more thrilling guests in the upcoming months and we're excited to have Fukuhara as Suicide Squad will be sweeping the box office."
All advance tickets, now on sale, are discounted. Prices increase after September 19th and at the door. In advance, three day passes are $60, one day passes on Friday and Sunday are $30, and one day passes on Saturday $35. VIP Packages are $199 and include early entry to all three days, raffles, T-shirts, autograph line fast-pass, exclusive VIP party access on Saturday night with guest celebrities in attendance and a special cake designed by Eric and Patty Woller, two-time champions of Food Network Cake Wars. Tickets for children under eleven years old are free.
Rooms are available at The Hyatt Regency for a discounted price of $119 per night. Rooms can be reserved online or by calling 1-407-284-1234. Mention 'Spooky Empire' for special rate.
For more information regarding the schedule and to purchase tickets, visit www.spookyempire.com. Stay tuned as more activities, special guests, celebrities and more will be announced in the coming months.
For more information about Spooky Empire, visit spookyempire.com.
Follow them on Facebook, Twitter and Instagram (@SpookyEmpire).
# # #
About Spooky Empire
Founded in 2003, Spooky Empire's Fall Convention has grown to become one of the largest thriller conventions and the dark side of comic con in the nation with attendance increasing each year. Designed to be THE ultimate weekend for thriller fans of all ages, the event allows guests to meet and mingle with their favorite movie and TV stars, buy amazing collectibles from hundreds of vendors and artists, see new and emerging films as well as old favorites, get tattooed by some of the best artists in the world, and take part in one of the largest Zombie Walks in the country. In May 2011, Spooky Empire introduced their Spring Convention mid-season to provide fans with even more fun in anticipation of their Fall Convention. Spooky Empire's ultimate goal is to provide memorable events for fans to return to each year, a place where they can congregate with thousands of other people with the same interests. For more information, visit www.spookyempire.com.
Spooky Empire Media Contacts:
Juliana Gutierrez, Jessica Wade Inc. | +1 305-991-4259 | juliana@jessicawadeinc.com
Jessica Wade Pfeffer, Jessica Wade Inc. | +1 305-804-8424 | jessica@jessicawadeinc.com