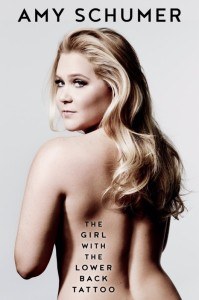 Emmy award-winning comedian Amy Schumer (Inside Amy Schumer, Trainwreck) will be signing copies of her new book, The Girl With The Lower Back Tattoo, at Book Revue on Thursday August 18th, 2016 at 7:00 PM.
*TICKETS REQUIRED*
A limited number of tickets will be sold beginning Thursday, August 4th at 9:30am. For more information or to purchase tickets, please call (631)271-1442
One ticket is the cost of the book ($28.00+tax) and includes a copy of the book which you will receive on the day of the event. Limit one book per customer.
The Emmy Award-winning comedian, actress, writer, and star of Inside Amy Schumer and the acclaimed film Trainwreck has taken the entertainment world by storm with her winning blend of smart, satirical humor. Now, Amy Schumer has written a refreshingly candid and uproariously funny collection of (extremely) personal and observational essays.
In The Girl with the Lower Back Tattoo, Amy mines her past for stories about her teenage years, her family, relationships, and sex and shares the experiences that have shaped who she is—a woman with the courage to bare her soul to stand up for what she believes in, all while making us laugh.
Ranging from the raucous to the romantic, the heartfelt to the harrowing, this highly entertaining and universally appealing collection is the literary equivalent of a night out with your best friend—an unforgettable and fun adventure that you wish could last forever. Whether she's experiencing lust-at-first-sight while in the airport security line, sharing her own views on love and marriage, admitting to being an introvert, or discovering her cross-fit instructor's secret bad habit, Amy Schumer proves to be a bighearted, brave, and thoughtful storyteller that will leave you nodding your head in recognition, laughing out loud, and sobbing uncontrollably—but only because it's over.
IMPORTANT!
All books signed at Book Revue events must be purchased at Book Revue. If you purchase the book prior to the event please save your Book Revue receipt. If you have purchased the book from somewhere else you can still get your book signed, we just ask that you make a purchase in our store of equal or greater value to that of the book.
Book Revue
313 New York Avenue, Huntington, NY 11743
631-271-1442