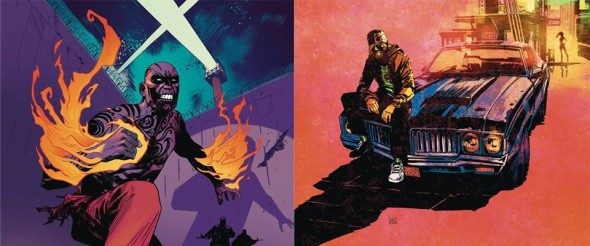 Writer MICHAEL MORECI appears at Defiant Comics on Wednesday, August 17, 2016 from 4:00 – 8:00 PM. He'll be signing copies of his TWO new number one issues: SUICIDE SQUAD MOST WANTED: EL DIABLO & BOOMERANG #1 and REINCARNATE #1!
Suicide Squad (soon to be a major motion picture!) follows Boomerang and the Squad as they embark on a mission to take down a ruthless dictator within a small, unstable Central American nation, but when the mission goes awry, the Squad must jump in a helicopter and flee as all hell breaks loose. But amid the chaos, the team realizes one of them was accidentally left behind: Boomerang! How can he stay alive long enough to be rescued when a whole army wants him dead?
ReincarNate (soon to be a major television series!) focuses on down-on-his-luck private eye Nate McCoy. After being shot in the head during an investigation, Nate gains the ability to interact with versions of himself from past lives: Jameson, a wild west lawman, and Alan, a contract killer from the 1960s. With their help, Nate takes on the dangerous underworld, crooked cops, and scumbags, including El Panda, a criminal heavyweight who may have been responsible for the murder of his father.
Defiant Comics
7234 Madison Street, Forest Park, IL 60130
(708) 771-3339