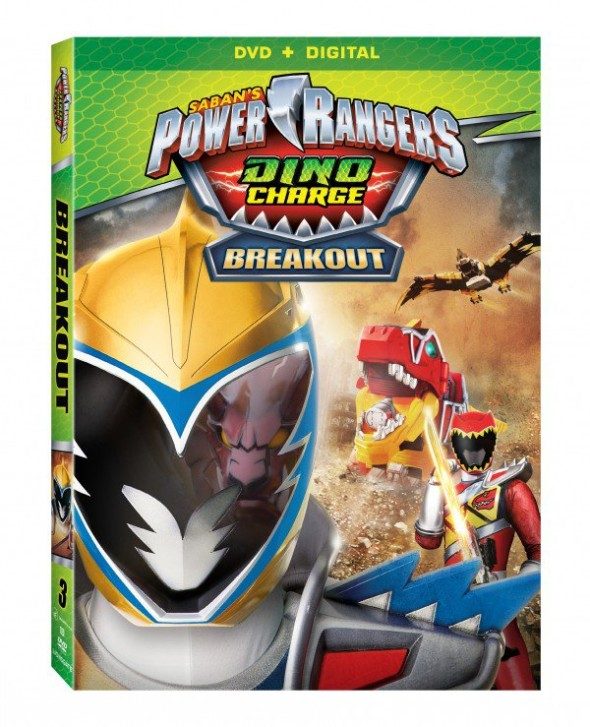 Saban's Power Rangers Dino Charge: Breakout DVD Hits the Street on July 12, 2016
Saban's Power Rangers are back in action with Power Rangers Dino Charge: Breakout, arriving on DVD (plus Digital), Digital HD, and On Demand July 12 from Lionsgate.
Your favorite color-coded heroes are back in action! If you're looking for something fun to watch with the kids (or for your own enjoyment) this summer, then look no further. Here's what you need to know:
"The Red, Black, Blue, Green, and Pink Rangers must once again rely on each other and their new dino-charged powers as they battle to defend the Earth from the villainous Sledge. This all-new Power Ranger series ranked #1 in its time period across all TV with kids 2-11. The Power Rangers will have to outsmart a puzzling villain, save a prince, and try to defeat Sledge's monsters. When the evil Fury unleashes the powerful Ptera Zord, only the Power Rangers can regain control with the help of their newest ally–the Gold Ranger! With an ever-growing fan base, Power Rangers Dino Charge: Breakout will be the biggest, and most shocking, Power Rangers adventure yet, when it arrives on DVD for the suggested retail price of $14.98."
This DVD includes episodes 9-12, which aired in 2015.  These are some of the better episodes from the season, especially with the addition of the Gold Ranger. As far as the Nickelodeon era Power Rangers (Samurai, Super Samurai, Mega Force, Super Mega Force), Dino Charge is one of the better ones, though it still lacks something that hasn't been around in Power Rangers since the days of Mighty Morphin through Time Force. Though newer Saban series differs slightly from the original Mighty Morphin Power Rangers of the past, but retains its charm and sense of humor, appealing to audiences both young and old.
Episodes:
"When Logic Fails"
"The Royal Rangers"
"Breakout"
"Knight After Knights"
Program Information:
Year of Production: 2015
Title of Copyright: 2015 SCG Power Rangers LLC. All Rights Reserved
Type: TV on DVD
Rating: TV-Y7
Genre: Action/Adventure, TV Series, Children, Superhero
Closed-Captioned: English
Subtitles: None
Run Time: 92 Minutes
DVD Format: 16×9 Widescreen (1.78:1)
DVD Audio Status: English 5.1 Dolby Digital; French and Spanish 2.0 Dolby Digital
About Saban Brands:
Formed in 2010 as a subsidiary of Saban Capital Group, Saban Brands (SB) was established to acquire and develop a world-class portfolio of properties and capitalize on the company's experience, track record and capabilities in growing and monetizing consumer brands. SB applies a strategic transmedia management approach to enhancing and extending its brands in markets worldwide and to consumers of all ages. The company provides full-service management, marketing, promotion, and strategic business development for its intellectual properties including comprehensive strategies unique to each brand, trademark and copyright management and enforcement, creative design, retail development, direct-to-consumer initiatives, and specialized property extensions. SB is led by a superior management team with decades of experience in licensing, marketing and finance. For more information, visit sabanbrands.com.
About Lionsgate:
Lionsgate is a leading global entertainment company with a strong and diversified presence in motion picture production and distribution, television programming and syndication, home entertainment, family entertainment, digital distribution, new channel platforms and international distribution and sales. Its feature film business has been fueled by such recent successes as THE LINCOLN LAWYER, TYLER PERRY'S MADEA'S BIG HAPPY FAMILY, THE EXPENDABLES, MARGIN CALL, THE LAST EXORCISM and the critically-acclaimed PRECIOUS, which won two Academy Awards. With the January 2012 acquisition of Summit Entertainment, the Company now has the two leading young adult franchises — the blockbuster TWILIGHT SAGA, which has grossed more than $2.5 billion at the worldwide box office, and the HUNGER GAMES franchise, whose first film will be released on March 23. Recent Summit hits include RED, LETTERS TO JULIET, KNOWING, the STEP UP franchise and the Academy Award winning Best Picture THE HURT LOCKER.
Lionsgate's home entertainment business is an industry leader in box office-to-DVD and box office-to-VOD revenue conversion rate. Lionsgate handles a prestigious and prolific library of approximately 13,000 motion picture and television titles that is an important source of recurring revenue and serves as the foundation for the growth of the Company's core businesses. The Lionsgate and Summit brands remain synonymous with original, daring, quality entertainment in markets around the world.