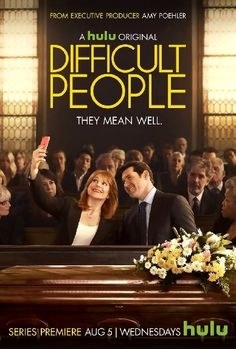 Julie Klausner & Billy Eichner appear with moderator Caryn James at the 92nd Street Y on Sunday, July 17, 2016 at 7:30 pm for a Difficult People talk and advance screening.
Press Release:
Two aspiring NYC comedians who aren't living up to their potential, hate just about everything and everyone — except for each other.
That's the hilarious journey of creator, writer, Executive Producer and star Julie Klausner (How Was Your Week?) and co-star Billy Eichner (Billy on the Street) on Hulu's hit comedy series Difficult People. Laugh your way through an advance screening of an episode from Season 2, then hear from these two funny people about playing wayward versions of themselves on their painfully comic, Amy Poehler-produced show.
92nd Street Y
1395 Lexington Avenue, New York, New York 10128
212-415-5500