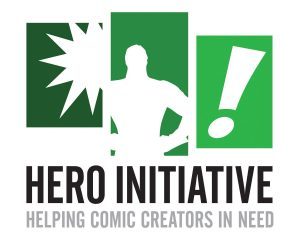 Press Release:
Hero Initiative, the charity that helps comic book creators in medical and financial need, is heading to the Derby City Comic Con in Louisville KY, June 25-26 at the Louisville Convention Center.
Artist Matthew Clark, currently working on DC Comics' Wonder Woman will be signing and sketching all weekend at our booth, #90 on the con floor. Make SURE you stop on by and say "hi" and grab a sketch or signature!
And Hero Initiative Ambassadors at Derby City include Colleen Doran, Bob Layton, Jae Lee, and Ulises Farinas. Each will have donation jars on their own tables to help raise money for our cause. Do the right thing and help out!
About The Hero Initiative
The Hero Initiative is the first-ever federally chartered not-for-profit corporation dedicated strictly to helping comic book creators in need. Hero Initiative creates a financial safety net for yesterday's creators who may need emergency medical aid, financial support for essentials of life, and an avenue back into paying work. It's a chance for all of us to give back something to the people who have given us so much enjoyment.
Since its inception, The Hero Initiative has had the good fortune to grant over $950,000 to the comics' veterans who have paved the way for those in the industry today. For more information, visit www.heroinitiative.org or call 626-676-6354.