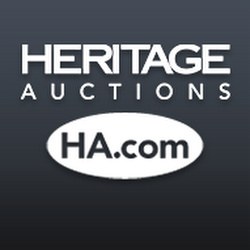 Press Release:
One of the most popular events that Heritage Auctions ever launched was accepting consignments and offering direct sales At Comic-Con International in San Diego.
For over 20 years we offered an incredible assortment of Comic character collectibles while maintaining our auction presence.
Heritage has decided to continue the tradition!
As in past years, we will again extend clients the opportunity to offer comic art, comic books and collectibles on their behalf at our booths  Items offered for sale at the show, sell at the convention. No waiting, no buyer's premium, no angst, instant gratification!
A Flat 15% commission, no buyer's premium. You can bring and pick up your consignment at the show.
Let us explain how this works, after over 30+ years of setting up at conventions, one thing has always been certain, collectors have always found their way to our booths to visit, view art, rest and invariably ask if we would offer their collectibles while at the show. We found this to be a win/win situation: great for our friends and great for us also. In recent years, we extended this opportunity to you, our clients, with great success and do so again. You do not have to attend the convention to participate!  However, you do need to contact us  to discuss consignments.
Please contact us with questions for more details. Consignments are being accepted NOW
We already have commitments for great animation art, an outstanding array of Silver age and Golden age comic art by luminaries including: Frazetta, Kirby, Ditko, Infantino, etc. as well as what promises to be a great selection of strip art by McCay, Herriman, Foster, Raymond, etc
.
Please visit us at booths 4302, 4304, 4306 near Artists Alley. Stay tuned for more information on items we will be offering! We look forward to your participation.