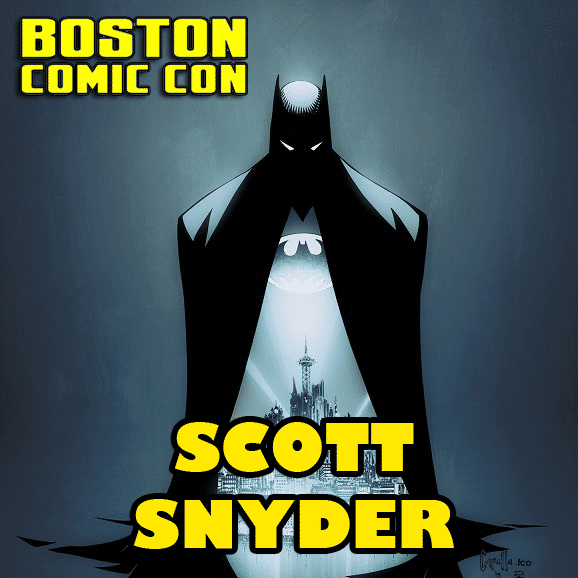 Press Release:
Back by popular demand, superstar writer Scott Snyder joins us once again at Boston Comic Con 2016! Scott is best known for his recently concluded, best-selling run on Batman alongside artist and fellow guest Greg Capullo. A prolific writer, he has worked on several Bat-titles such as Detective Comics, Batman Eternal, Batman: Gates of Gotham, and the upcoming All-Star Batman. Scott is also known for his horror titles including Swamp Thing, The Wake, Wytches, and American Vampire (with artist and fellow guest Rafael Albuquerque).
He joins a guest artist list of well over 80 of the world's most talented comic book creators – a portfolio unmatched by any other comic book convention, in New England or elsewhere including Sam Kieth, Jae Lee, John Cassaday, Erik Larsen, Terry Dodson, Mike Allred, Adam Hughes, Arthur Adams, Amanda Conner, Jim Cheung, Jimmy Palmiotti, Phil Jimenez, Mark Waid, Bernie Wrightson, Stan Sakai, and many more!
Media guests include William Shatner (Star Trek), Karen Gillan (Guardians of the Galaxy), Jenna Coleman (Doctor Who), Karl Urban (Star Trek Beyond), John Barrowman (Arrow), Ciara Renee (Legends of Tomorrow), Robbie Amell (The Flash), Caity Lotz (Legends of Tomorrow), and more. Check the website for full details on exciting events!
Boston Comic Con 2016 tickets are on-sale now at the link!
About Boston Comic Con:
The Boston Comic Con is a 100% independently run comic book show committed to bringing the biggest and best comic creators to New England. Run by fans for fans, Boston Comic Con is not affiliated with any other convention tour or corporate interests. Hosting over 120,000 square feet of vendors selling comic books, toys, posters, trading cards, and other pop culture memorabilia, this is a destination event for geeks of any stripe. This year's convention will be held Friday August 12th, Saturday August 13th, and Sunday August 14th at the Seaport World Trade Center, 200 Seaport Blvd, Boston, MA 02210. For more information please go to our website at www.bostoncomiccon.com and follow us on Twitter (@BostonComicCon) and Facebook!