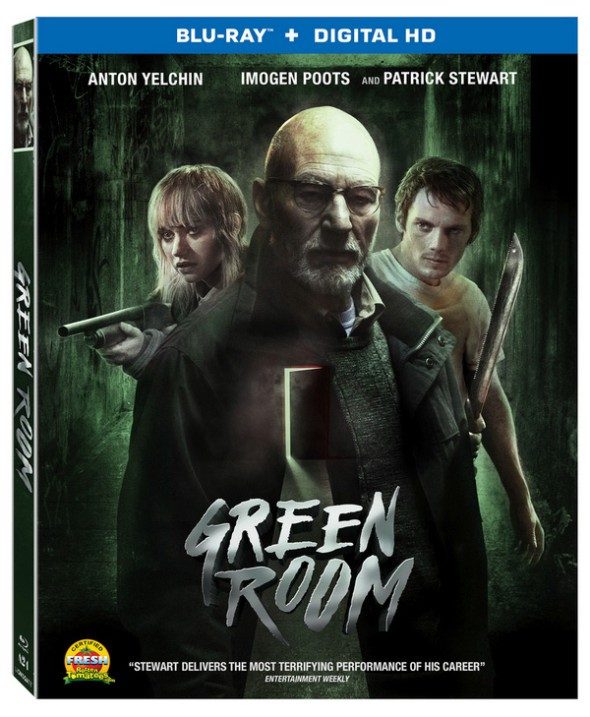 Press Release:
"Downright Incredible! A bloody and brilliant backwoods standoff." – Collider
Patrick Stewart Terrifies Audiences in the Gritty and Shocking Nail Biter on Blu-rayTM & DVD July 12 from Lionsgate
SANTA MONICA, CA (May 3, 2016) –  Spike your hair, throw on your combat boots, and get ready to dive into the mosh pit when the brilliantly crafted thriller Green Room hits Blu-ray (plus Digital HD) and DVD (plus Digital) July 12 from Lionsgate. Theatrically released by A24, and written and directed by Jeremy Saulnier (who achieved critical success with Blue Ruin), Green Room is a film that critics are calling "the best screw-tightening siege movie of the year" (Rolling Stone). Rotten Tomatoes Certified Fresh, the award-winning film stars Golden Globe® nominee Patrick Stewart (X-Men: Days of Future Past) in a role "that's as cool as it is evil" (Bloody Disgusting) and will haunt audiences well past the closing credits. The "delightfully nasty horror chiller" (Chicago Sun-Times) also stars Anton Yelchin (Star Trek Beyond), Imogen Poots (Fright Night), Alia Shawkat (The Final Girls), Joe Cole (Secret in Their Eyes), and Callum Turner (Queen& Country).
After witnessing a shocking crime, a young rock band is unexpectedly thrust into a life-or-death battle to escape the clutches of a diabolical club owner (Stewart) and his ruthless henchmen in this white-knuckle thriller.
The home entertainment release of Green Room contains audio commentary with Director Jeremy Saulnier and a behind-the-scenes featurette. The Green Room Blu-ray and DVD will be available for the suggested retail price of $24.99 and $19.98, respectively.
BLU-RAY/DVD SPECIAL FEATURES*
Audio Commentary with Director Jeremy Saulnier
"Into the Pit: Making Green Room" Featurette
*Subject to Change
Website: http://greenroom-movie.com
Facebook: https://www.facebook.com/GreenRoomMovie
Twitter: @greenroommovie
PROGRAM INFORMATION
Year of Production:  2015
Title Copyright: Green Room © 2015 Green Room Production, LLC. All Rights Reserved. Artwork & Supplementary Materials © 2016 Lions Gate Entertainment Inc. All Rights Reserved.
Type: Theatrical Release
Rating: R for Strong Brutal Graphic Violence, Gory Images, Language and Some Drug Content.
Genre: Horror, Thriller
Closed-Captioned: NA
Subtitles: English SDH and Spanish
Feature Run Time: 95 minutes
Blu-ray Format:  1080p High Definition 16×9 Widescreen (2.40:1)
DVD Format: 16×9 Widescreen (2.40:1)
Blu-ray Audio: English 5.1 DTS-HD Master AudioTM
DVD Audio:  English 5.1 Dolby Digital
ABOUT LIONSGATE
Lionsgate is a premier next generation global content leader with a diversified presence in motion picture production and distribution, television programming and syndication, home entertainment, international distribution and sales, branded channel platforms, interactive ventures and games, and location-based entertainment. The Company has nearly 80 television shows on 40 different networks spanning its primetime production, distribution and syndication businesses. These include the critically-acclaimed hit series Orange is the New Black, the hit broadcast network series Nashville, the syndication successes The Wendy Williams Show and Celebrity Name Game (with FremantleMedia), the breakout series The Royals and the Golden Globe-nominated dramedy Casual.
The Company's feature film business spans eight labels and includes the blockbuster Hunger Games franchise, the Now You See Me, Divergent and John Wick series, Sicario, The Age of Adaline, Roadside Attractions' Love & Mercy and Mr. Holmes, Codeblack Films' Addicted and breakout concert film Kevin Hart: Let Me Explain and Pantelion Films' Instructions Not Included, the highest-grossing Spanish-language film ever released in the U.S.
Lionsgate's home entertainment business is an industry leader in box office-to-DVD and box office-to-VOD revenue conversion rates. Lionsgate handles a prestigious and prolific library of approximately 16,000 motion picture and television titles that is an important source of recurring revenue and serves as a foundation for the growth of the Company's core businesses. The Lionsgate and Summit brands remain synonymous with original, daring, quality entertainment in markets around the world. www.lionsgate.com