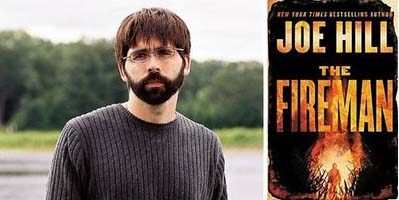 Press Release:
Award-winning, New York Times bestselling author Joe Hill will talk about and sign copies of his new book, The Fireman, at the Coralville Public Library on Sunday, May 22, 2016 from 5:00 to 7:00 PM.
The Fireman is a novel about a terrifying worldwide pandemic of spontaneous combustion that threatens to reduce civilization to ashes. The pandemic is caused by Dragonscale, a highly contagious, deadly spore that tattoos its hosts with beautiful black and gold marks before causing them to burst into flames. Millions are infected; blazes erupt everywhere. There is no antidote. No one is safe.
Joe Hill is the author of NOS4A2, Horns, and Heart-Shaped Box. He  is a two-time winner of the Bram Stoker Award, and a past recipient of the Ray Bradbury Fellowship. His stories have appeared in a variety of journals and Year's Best collections. He lives in New England.
A reception will follow the reading and signing. Books available from Prairie Lights Bookstore.
Coralville Public Library
1401 5th St, Coralville, Iowa 52241
(319) 248-1850