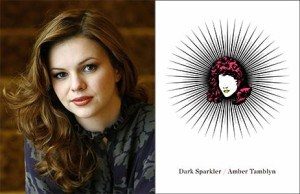 Actress and author Amber Tamblyn (The Sisterhood of the Traveling Pants, The Ring, 127 Hours, Joan of Arcadia) appears at Inkwood Books to present her new book Dark Sparkler, on Friday, April 15, 2016 at 6:00 PM.
Press Release:
Amber Tamblyn will discuss and sign her collection of poetry DARK SPARKLER an "emotionally charged collection of poetic portraits of the lives and troubling ends of more than thirty actresses famous and obscure. Featuring subjects like Brittany Murphy, Marilyn Monroe, and Jane Mansfield—and paired with original artwork, commissioned for this book, by luminaries including David Lynch, Adrian Tomine, Marilyn Manson, and Marcel Dzama—DARK SPARKLER is a surprising and thought-provoking collection from a searching and multi-talented young artist."
About Amber: Amber Tamblyn is an author, actress and director who has been nominated for an Emmy, Golden Globe and Independent Spirit Award for her work in television and film. She has three collections of poetry and prose, most recently Dark Sparkler which explores the lives and deaths of child star actresses, with accompanying artwork by such luminaries as Marilyn Manson and David Lynch, amongst others. She reviews books of poetry written by women for Bust Magazine and is a contributing writer for The Poetry Foundation and visiting Woodrow Wilson Fellow. She lives in Brooklyn.
RSVP on Facebook!
Inkwood Books
216 S Armenia Ave, Tampa, Florida 33609
(813) 253-2638