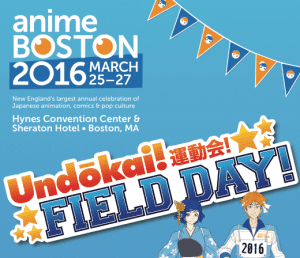 Anime Boston, the largest anime convention in New England, has announced its guest lineup for their March 25 – 27 show! Coming all the way from Japan are Director Kyohei Ishiguro, Character Designer Yukiko Aikei, Producer Masao Maruyama, and Voice actors Toshio Furukawa and Shino Kakinuma. Their work encompasses many of the most popular anime movies and television shows including Mobile Suit Gundam, Sailor Moon, Fist of the North Star, Dragon Ball Z, Death Note, Horizon in the Middle of Nowhere, and many more. This a rare opportunity for North American fans to meet these artists as they make few US appearances, some are even making the trip for the first time!
Also appearing are several of the voice actors who dub Japanese anime into English including Tony Oliver (Robotech, Lupin the III), Eric Vale (Dragon Ball Z, One Piece), Carrie Keranen (Your lie in April, Kill la Kill), Erica Lindbeck (The Seven Deadly Sins, Your lie in April), Max Mittelman (Transformers: Rescue Bots, The Seven Deadly Sins) Patrick Seitz (Naruto: Shippûden, Sailor Moon Crystal), Monica Rial (Dragon Ball Z Kai, Soul Eater), Todd Haberkorn (Fullmetal Alchemist: Brotherhood, The Legend of Korra) and Greg Ayres (Neon Genesis Evangelion, Samurai 7). Guests will be available for autographs and photos with fans but in order to maximize everyone's experience Anime Boston has laid out a set of guidelines on their website.
Anime Boston additionally features an art track where artists sell commissions, manga, zines, and prints with Featured Artists who conduct panels and workshops. This year's Featured Artists are Eric Proctor, Nightengale Needles, Kel McDonald, Trevor Mueller, and Rich Pellegrino.
As in past years, Anime Boston 2016 will present many popular events including a masquerade, an anime music video contest, video programming rooms, an artists' alley and art show, karaoke, game shows, video games, manga library, formal and informal dances, and much more. Dealers' room will be located in the cavernous Halls A and B of the Hynes Convention Center selling manga, anime DVDs, t-shirts, prints, and collectibles.
About Anime Boston:
Anime Boston is an annual three-day Japanese animation convention held in Boston, Mass. Anime Boston 2016 is scheduled for Friday, March 25 through Sunday, March 27 at the Hynes Convention Center and Sheraton Boston Hotel. More information about Anime Boston can be found at www.animeboston.com.
About New England Anime Society:
The New England Anime Society was founded in 2001. Based in Massachusetts, The New England Anime Society, Inc. is parent organization of Anime Boston and is dedicated to furthering public education and understanding of the Japanese language and culture through visual and written media. More information about The New England Anime Society is available at www.neanime.org.