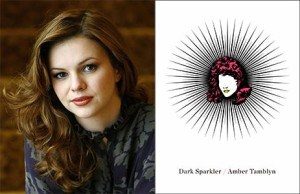 Actress and author Amber Tamblyn (The Sisterhood of the Traveling Pants, The Ring, 127 Hours, Joan of Arcadia) appears at Magers and Quinn Booksellers to present her new book Dark Sparkler, on Saturday, March 12, 2016 at 7:00 PM.
Press Release:
The lives of more than twenty-five actresses lost before their time—from Marilyn Monroe to Brittany Murphy—explored in a haunting, provocative new work by an acclaimed poet and actress.
Amber Tamblyn is both an award-winning film and television actress and an acclaimed poet. As such she is deeply fascinated—and intimately familiar—with the toll exacted from young women whose lives are offered in sacrifice as starlets. The stories of these actresses, both famous and obscure-tragic stories of suicide, murder, obscurity, and other forms of death—inspired this empathic and emotionally charged collection of new poetic work.
Featuring subjects from Marilyn Monroe and Frances Farmer to Dana Plato and Brittany Murphy—and paired with original artwork commissioned for the book by luminaries including David Lynch, Adrian Tomine, Marilyn Manson, and Marcel Dzama—Dark Sparkler is a surprising and provocative collection from a young artist of wide-ranging talent, culminating in an extended, confessional epilogue of astonishing candor and poetic command.
Amber Tamblyn is an author, actress and director who has been nominated for an Emmy, Golden Globe and Independent Spirit Award for her work in television and film. She has three collections of poetry and prose, most recently "Dark Sparkler" (Harper Perennial) which explores the lives and deaths of child star actresses, with accompanying artwork by such luminaries as Marilyn Manson and David Lynch, amongst others. She reviews books of poetry written by women for Bust Magazine and is a contributing writer for The Poetry Foundation and visiting Woodrow Wilson Fellow. She lives in Brooklyn.
Please note the following signing restriction: Amber will sign any book of hers, but she will only sign memorabilia if the customer has purchased a book.
This event is free and open to the public.
Magers and Quinn Booksellers
3038 Hennepin Avenue S, Minneapolis, MN 55408
tel: 612.822.4611