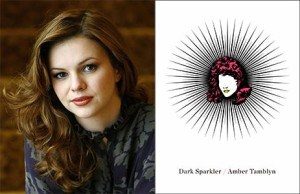 Press Release:
Join Bank Square Books for an author talk with actress and poet Amber Tamblyn, author of the book Dark Sparkler, on Saturday, March 26, 2016 at 4:00 PM.
A lifelong performer from a Hollywood family, actress Amber Tamblyn (Sisterhood of the Traveling Pants, Two and a Half Men, The Ring) is also an established poet who has studied with Lawrence Ferlinghetti, Jack Hirschman, and others.
As a working actress, she is also deeply fascinated—and intimately familiar—with the costs of fame and the demands placed on young women in movies and on television. An initially casual interest in the lives and disappointments of actresses before her time—tragic stories of suicide, murder, obscurity, and other forms of death—inspired this insightful and emotionally charged collection of poetic portraits of the lives and troubling ends of more than thirty actresses famous and obscure. Featuring subjects like Brittany Murphy, Marilyn Monroe, and Jane Mansfield—and paired with original artwork, commissioned for this book, by luminaries including David Lynch, Adrian Tomine, Marilyn Manson, and Marcel Dzama—DARK SPARKLER is a surprising and thought-provoking collection from a searching and multi-talented young artist.
Bank Square Books
53 W Main St, Mystic, Connecticut 06355
(860) 536-3795