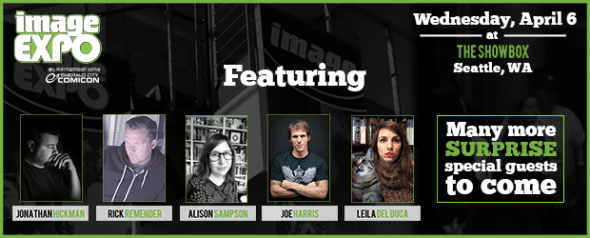 Press Release:
For the first time, Image EXPO teams up with ReedPOP for Image EXPO 2016 in Partnership with Emerald City Comicon. Held in Seattle, Washington, Image EXPO will bring Fans a new slate of exciting Creator announcements.
Image EXPO is an all-day event for fans, the retailer community and the press to experience a showcase of exciting Image Comics announcements. Image EXPO 2016 will feature a line-up of some of the hottest names in comics include Jonathan Hickman (EAST OF WEST), Rick Remender (BLACK SCIENCE), Alison Sampson (GENESIS), Joe Harris (SNOWFALL), Leila Del Duca (SHUTTER) and offers a unique experience for fans to have unprecedented access to the writers and artists behind their favorite comic books at exclusive autograph sessions and comic–focused programming. The event is open to all fans, comics retailers, librarians and media.
Image EXPO will be held in downtown Seattle at The Showbox. Admission for Retailers and Media are complimentary on a first come, first serve basis.
In addition, Premium Admission Ticket holders will enjoy a complimentary cloth Image Comics branded tote bag stuffed with Image Expo exclusive variants, admission ticket to 18+ Image Comics' Spring Formal dance, Priority Seating and access to a Premium-Ticket-holder-only group signing with an exciting creator lineup.
The Image Comics Spring Formal is in the style and spirit of a traditional high school dance and in celebration of the industry's diversity and camaraderie. More details to come soon.
Image EXPO tickets are available at the link…
Tickets for Image EXPO 2016 does not get you access to Emerald City Comicon. ECCC tickets must be purchased separately.
Members of the Media interested in requesting a Press Pass should fill out this form
Comic Retailers interested in obtaining their complimentary pass should fill out this form.
When:
Image EXPO Presented by Emerald City Comicon: Wednesday, April 6, 10:00 AM – 6:00 PM
Image Comics' Spring Formal Dance: Wednesday, April 6, 8:00 PM – 12:00 AM
Where:
The Showbox
1426 1st Avenue, Seattle, WA 98101
(206) 628-3151