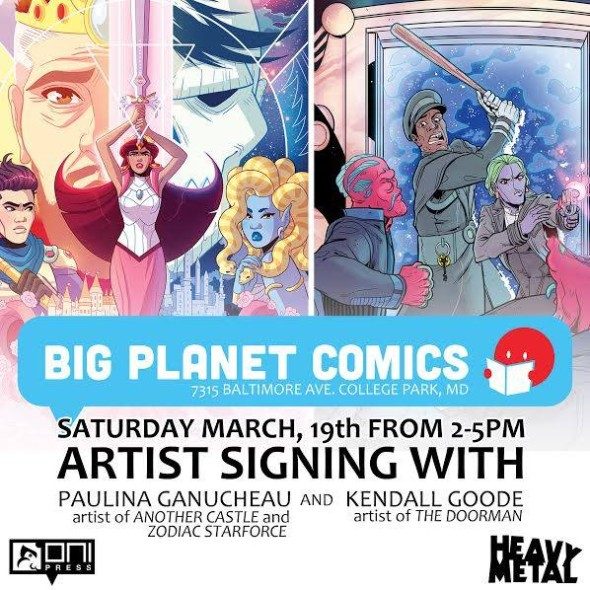 Press Release:
Big Planet Comics is proud to welcome local artists Kendall Goode and Paulina Ganucheau for their two new comic series, The Doorman from Heavy Metal, and Another Castle from Oni Press on Saturday, March 19, 2016 at 2:00 PM!
In The Doorman, Henry Clay Waters is The Doorman of Earth and hasn't had an interstellar visitor in decades until… his last day on the job when an extraterrestrial assassin darkens his doorstep. Saved by the neurotic alien Detective Flower, the two must team up to solve the galaxy's biggest mystery or get killed trying!
In Another Castle, Princess Misty of Beldora longs for a more exciting life, but gets more than she bargained for when she is captured by Lord Badlug, the ruler of the neighboring kingdom of Grimoire. He intends to marry her and conquer Beldora, leading the land into ruin and chaos. Together with the long-suffering citizens of Grimoire and a certain bumbling prince, Misty must fight to protect her kingdom and free both realms from Badlug's tyrannical rule.
Big Planet Comics
7315 Baltimore Ave, College Park, MD 20740
301-699-0498