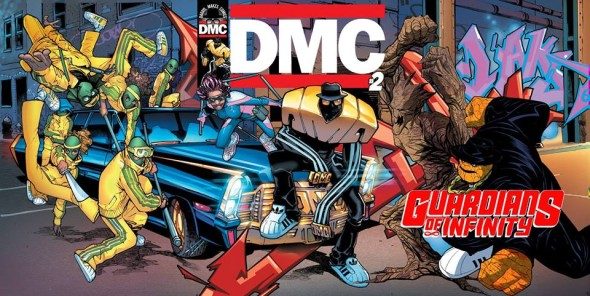 Darryl "DMC" McDaniels of the legendary hip hop group Run DMC appears alongside his Editor-in-Chief Edgardo Miranda-Rodriguez at Forbidden Planet on Wednesday, March 2, 2016 from 5:00 – 7:00 PM to sign the second issue of their comic DMC from Darryl Make Comics and Guardians of Infinity #3 featuring their Marvel Comics debut!
ABOUT DARRYL "DMC" MCDANIELS
Darryl "DMC" McDaniels is a legendary musician. For more than 30 years he's been an undeniable influence on pop culture. He remains at the forefront of hip hop history. As a founding member of Run DMC, he is used to being an innovator. From being the first rap group to grace the cover of Rolling Stone to the first to appear on MTV, the Grammy nominated artist has changed music, culture, fashion and language. An Emmy Award winner for the VH1 documentary about his life changing discovery, "DMC: My Adoption Journey" he is the co-founder of the nonprofit, Felix Organization. DMC has been invited to the White House by President Obama to address youth groups on responsibility and he's appeared before Congress in support of adoptees and foster children. A Rock N Roll Hall of Fame inductee as well as a celebrated author with his novel, King of Rock; Respect, Responsibility and My Life With Run-DMC, he's also a philanthropist. Even with this long list of accomplishments and 30 million record sales later, DMC is still releasing new music as he continues to create, inspire and motivate.
Forbidden Planet
832 Broadway, New York, NY 10003
212-473-1576