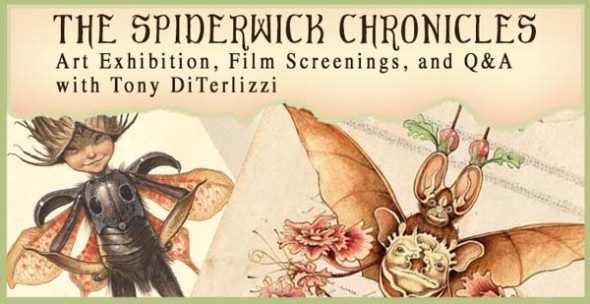 Tony DiTerlizzi, illustrator and co-creator of The Spiderwick Chronicles series will have an exhibition of his incredible work at the Jean Cocteau Cinema Gallery during the month of February, with some screenings of the Spiderwick Chronicles movie leading up to a special Interview with DeTerlizzi conducted by George R.R. Martin and followed by an audience Q&A on Tuesday, March 1st at 6:30 PM! Details at the link…
About Tony DiTerlizzi:
New York Times bestselling author and illustrator, Tony DiTerlizzi, has been creating books for over a decade. From his fanciful picture books like The Spider & The Fly (a Caldecott Honor book), to chapter books like Kenny and The Dragon and the WondLa trilogy, Tony always imbues his stories with a rich imagination. With Holly Black, he created the middle-grade series, The Spiderwick Chronicles, which has sold millions of copies, been adapted into a feature film, and has been translated in over thirty countries. In 2014, he teamed up with Lucasfilm to retell the original Star Wars trilogy in a picture book. This year, a highly-anticipated collection of his early work, REALMS: The Roleplaying Game Art of Tony DiTerlizzi was released. October will see the debut of The Story of Diva & Flea, a collaboration with fellow kid's lit bestseller, Mo Willems. Tony's work has been featured in Time magazine, USA Today, CNN, PBS, the BBC and The Today Show.
Jean Cocteau Cinema
418 Montezuma Ave Santa Fe NM 87501
(505) 992-8783