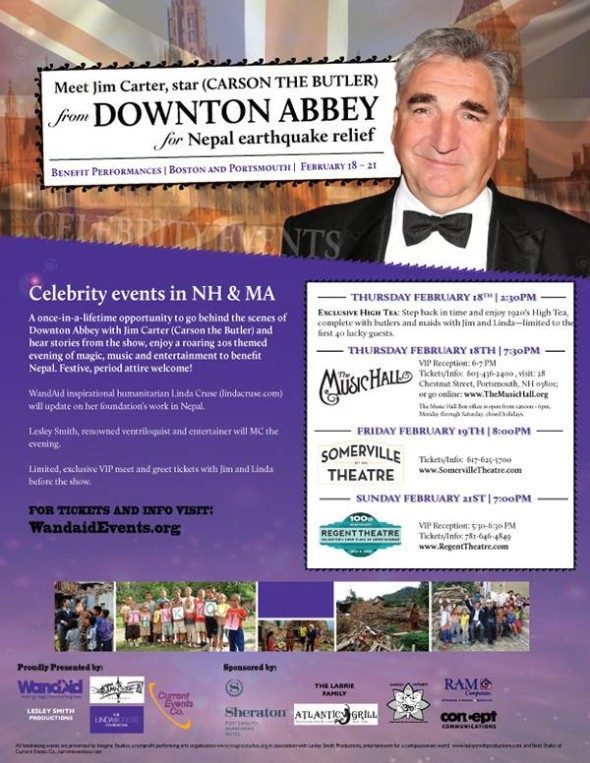 Press Release:
WandAid is excited to announce that Jim Carter, the actor who plays Carson the butler on Downton Abbey, will be in Portsmouth, NH and the greater Boston area February 17 – 21, hosting entertaining fundraising events for victims of the devastating earthquakes of 2015. With so much work to be done to help these beautiful people rebuild their lives, and with very little media coverage, we are working diligently to ensure that the world does not forget the tragedy.
Jim is passionate about making a difference so linked up with Linda Cruse and together they started WandAid, whose proceeds go to The Linda Cruse Foundation. WandAid uses magic, music and entrepreneurs to bring joy and recovery to the 'forgotten people' at home and abroad. It aims to empower challenged communities impacted by natural disaster, political crisis and disadvantage so that children and families can rebuild their lives and livelihoods.
The events will feature live music, magic, and stories from his role in Downton Abbey by Jim Carter. Inspirational humanitarian aid worker Linda Cruse will give an update on her foundation's work in Nepal. Lesley Smith, renowned ventriloquist, entertainer and singer/songwriter will perform and MC the events. Join us at one of the venues listed below.
Thursday February 18th – 7:30 PM

The Music Hall
28 Chestnut Street, Portsmouth, NH 03801
603-436-2400
VIP Reception: Meet & Greet available at 6:00 PM
Friday February 19th – 8:00 PM
Somerville Theatre
55 Davis Square, Somerville, MA 02144
617-625-5700
Sunday February 21st – 7:00 PM
Regent Theatre
7 Medford Street Arlington, MA 02474
781-646-4849
VIP Reception: Meet and greet 5:30PM – 6:30PM; Exclusive Downton Abbey Episode Screening, 9pm
For tickets and further information please visit the WandAid website at the link…
About Jim Carter
Jim Carter is best known for playing the role of Carson the butler, in all 6 series of Downton Abbey. He has been nominated for 4 Emmy awards and has received 2 SAG awards for this role. Jim has appeared in over 40 films, including A Private Function, Brassed Off, Shakespeare in Love and The Golden Compass. He has had more than 100 TV appearances, including The Singing Detective, Red Riding, The Cranford Chronicles and of course, Downton Abbey.
About Linda Cruse and WandAid
Through WandAid, the Linda Cruse Foundation empowers challenged communities impacted by natural disaster, political crisis and disadvantage by providing immediate humanitarian aid. Working together with entrepreneurs to find long-term solutions, she uses magic and music to promote psychological recovery so that children and families can rebuild their lives and livelihoods. It's founder, Linda Cruse, is a hands-on humanitarian aid worker whose ethos of acting swiftly to respond to need, often using unconventional, creative means, is embodied by the Foundation. Linda's inspirational idea of using performers to bring joy and psychological recovery to families on the front line, led to the birth of WandAid, a series of fundraising and awareness-raising events to aid The Linda Cruse Foundation. Linda has worked side by side with some of the world's most influential figures including HH The Dalai Lama, HRH Prince Charles, and Sir Richard Branson. Branson once said "She makes the impossible, possible." Her 15 years of frontline humanitarian aid work have taken her to every continent in the world, where she has assisted in the aftermath of some of the world's most catastrophic natural disasters, including as the Asian tsunami, the Pakistani earthquake, two Philippine super-typhoons, and currently the aftermath of the Nepal earthquakes, conflict zones, high mountain nomadic areas and refugee camps, as well as aiding challenged communities worldwide. See www.lindacruse.com WandAid will debut a televised show under the executive lead of Liz Trubridge (Downton Abbey). During a live event, a never-seen-before grand scale illusion will be performed. The event will showcase footage of the performers on their programs of engagement, with the forgotten families at home and abroad in remote areas of post earthquake Nepal.
About Lesley Smith
Lesley Smith is a New England Foundation for the Arts touring artist, world class ventriloquist, vocalist and entertainer. She has been informing and entertaining over a million children and adult audiences in live events and television commercials throughout the U.S. starring Sammy Snail and her cast of characters. "Her smile and presence is as warm and welcoming as her voice." (Boston Globe).