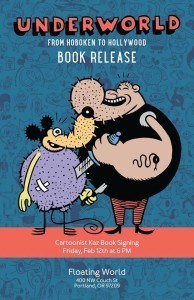 Cartoonist Kaz appears at Floating World Comics on Friday Feb. 12, 2016 from 6:00-8:00 PM for the Underworld: From Hoboken to Hollywood release party!
Press Release:
Floating World Comics is excited to host a release party for Kaz's new Underworld omnibus collection – From Hoboken to Hollywood! Kaz will join us to sign books and celebrate the release of his new book.
In addition to his career as an Emmy-winning writer for animation (Cartoon Network's Camp Lazlo, Disney's Phineas and Ferb, and Nickelodeon's SpongeBob Squarepants), Kaz has been unleashing his id and corrupting generations with his Harvey-nominated weekly Underworld comic strip since 1992. Underworld hilariously depicts sordid doings in a surreal city, stuffed with almost-parodies of famous comic strip characters, a healthy dose of cigarette-smoking cats, cute little saccharin-cuddly creatures, media- damaged kids, and much more — all destined for a sardonic smashing in typically acerbic Kaz fashion. Kaz's strip runs in many American alternative weeklies such as the New York Press and the SF Bay Guardian. The Underworld: From Hoboken to Hollywood will be the first ever omnibus collection of the very best of the strip's 23-year run, with annotations, photos, and other surprises from the author (along with a foreword by Mutts creator Patrick McDonnell).
Kaz was born in Hoboken, New Jersey in 1959. During the 1980s he studied comics under Art Spiegelman and contributed to the early issues of Raw magazine, eventually releasing his first anthology collection, the oversized (and now out of print and highly sought-after) Buzzbomb, with Fantagraphics Books. In 1991 he started the weekly self-syndicated comic strip: Underworld. Fantagraphics began collecting Underworld into book form in April of 1995, with five collections released to date. Sidetrack City and other Tales, a collection of longer comic strips, was published by Fantagraphics in 1996. The Underworld comic strip has been nominated for a Harvey Award four times.
Kaz is married to Linda Marotta, a horror literature critic and expert. They make their home in New York City while Kaz splits his time between there and working in the Los Angeles animation industry.
Floating World Comics
400 NW Couch Street, Portland, OR 97209
(503) 241-0227