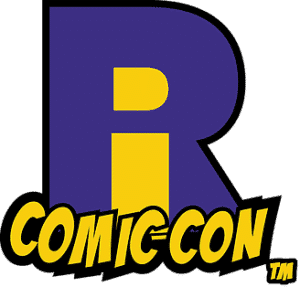 I went to Rhode Island to see John and Chris. John is my best friend of 25 years. We have been through it all: four divorces (two each), five marriages (he can make it six), new careers, new houses, and the almost-death of his first son, Jonathan, back in 2000. John and I have been to a number of conventions together (see here, for example), and it was time to add the Rhode Island Comic-Con to our roll.
Chris is Chris Claremont. I love John like a brother, but let's be clear: Chris is what drew me, a lifelong Southerner, to New England on the cusp of winter (November 5-8). I have been a fan of Chris since high school, when my friend Margot introduced me to a pretty cool comic called The Uncanny X-Men. The first issue I bought was #216. I read it, was hooked, and started buying it each month. My father noticed my zeal, and realizing he could teach investment skills while doing something fun with his soon-to-be-too-old-for-him son, he started advancing me allowances to buy back issues. I learned to grade comics and spot value, and within a year, I owned issues as far back as #12, the first appearance of Juggernaut.
I just realized: that was when Stan Lee was still writing the series.
Eventually, I let my collection stagnate, and then I sold it in 1999 for a couple thousand bucks so I could marry wife #2. (Now I don't have her or the comics, and guess which I miss more?) But I never forgot my adoration of Chris Claremont. Then I saw he would be in Rhode Island, and I called John, with whom I hadn't planned a trip all year. John said, "I'm in," and I thought, You better be.
Rhode Island Comic-Con isn't as large as San Diego or C2E2, and it isn't as venerable as, say, DragonCon. But it is on the rise. I had this brought home to me when I talked to Susan Soares, the director of media. She told me she was expecting 60,000 attendees. In 2012, there were 16,000. This is an increase of 275%—in only three years! It is the "largest and most income-generating event in the state," according to Susan, who expects the convention to keep growing because (1) Rhode Island is not a saturated market, (2) the staff is professional and easy-going, and (3) they advertise the heck out of it.
The growth hasn't been easy to manage, however. In 2014, the convention made headlines for the wrong reasons, overselling and getting shut down for half a day by the Providence fire marshal (see this link for the full story). I asked Susan how that contretemps would be avoided this year, and she outlined a three-part strategy:
Expansion. Last year's event was confined to the convention center in downtown Providence. This year, they planned to situate some elements (like the dealer room) in the adjacent Dunkin Donuts Center.
Day 3. Instead of being Saturday and Sunday only, this year's convention would start on Friday.
Scanned badges. Using the New York Comic-Con model, convention employees would scan badges as people enter and exit. This would allow them to track how many people are in the convention center at any time, thereby not exceeding capacity and getting shut down.
Overall, the strategy was a success. They had sold out of Saturday one-day tickets by 11:00am on Saturday, but I heard no other accounts of people being turned away. There were, however, navigation problems. In a convention spread across two buildings, I was surprised by the dearth of directional signs. Plus there were no printed maps—the only map was on the mobile app—so all weekend, I heard people murmuring "Where is the dealer room?" or "I can't find Vic Mignogna's table!"
After two circumnavigations of artist alley, I found Chris Claremont, who had been gracious enough to agree to an interview.
Me: Chris, I want you to know: you are the reason I am at this convention. I wanted to see you. Princess Leia? Pssssh. Besides, she cancelled.
Chris: Oh, really? She cancelled?
Me: Yeah. [And she wasn't the only one. Nearly a dozen celebrities were quietly flensed from the web site as of Friday morning. I'm used to one or two no-shows, but double digits?]
Chris: The funniest thing I've heard is the projected opening weekend gross for that film global is one billion. I saw the very first show of Star Wars at the Astor Plaza in New York, and it was empty. It gradually filled up, but there were empty seats, and we figured, nice movie when it started, but when it finished, it was like, holy shit. We walked out the door, and the line was four-deep around the block, and it didn't go away for about three months.
Me: Speaking of movies, what do you think about Marvel's movies, especially X-Men?
Chris: So far, Marvel has done very, very well. Kevin Feige is a brilliant film exec. Lauren Shuler-Donner is a brilliant film exec. Between the two of them, they have nailed the Marvel pantheon. The X-Men movies maybe aren't as financially lucrative as The Avengers. On the other hand, the casting of them is breathtaking, from the first X-Men to Days of Future Past—and, from all accounts, Apocalypse. Kevin, by the same token, starting with Iron Man, it's been an incredible ride. I mean, Ant-Man? Who would have thought Ant-Man?
Me: Ant-Man was good.
Chris: That's the point. It was good. And, more importantly, the actors playing the roles seem to enjoy the experience. They want to come back for more.
Me: Did you have any involvement in the X-Men movies?
Chris: Well, I helped crystallize the deal that got it all started back in the beginning, when I was briefly an executive at Marvel. I provided north of 80 percent of the source material for the characters. I mean, they're all my guys and gals. And two-thirds of them are pretty much straight adaptations of my work. I suppose you could honestly say it was all my fault.
Me: And we're very grateful.
Chris: Actually, the funny part is, every so often I sneak into the Marvel movies. Scarlett Johannson's secret identity in Iron Man 2, when she walks into Tony's house and is introduced as Natalie Rushman . . . well, Natalie Rushman is a secret identity that I invented for the Black Widow when she did a four-part team-up where she had lost her memory as the Black Widow and thought she was a schoolteacher from Boston named Natalie Rushman [this takes place in Marvel Team-Up #82-85, and the alias is actually Nancy Rushman].
Me: Cool. Switching gears a little, you've written comic books, and you've written prose novels. What's the difference in writing the two?
Chris: When you're writing comics, the writer's job is to tell the story to the visual artist. All the work that goes into writing a novel goes into describing the scene. [He opens a copy of Marada the She-Wolf. A Red Sonja-like character, Marada was created by Chris and the English artist John Bolton.] So it's describing this scene so that John Bolton could bring it to life brilliantly. Which he does. It's giving him the sequence of events and allowing him to do what he does best, which is draw a picture that makes you go, wow! When I first drafted this scene, there was going to be lots of dialogue about how she lost her father, lost her mother, yadda yadda yadda, blah blah blah. But when I got to the scene, when you see the images, when you get to this image, you don't need any words. I mean, if you can't figure out what's going on, if you can't figure out the emotional relationships just from looking at it, then neither of us is doing our job. John did his job brilliantly, unlike me talking now. The key to being a writer in comics is to know when to shut the hell up and let the artist do the work.
Me: So would your instructions for that panel be "Have someone lying on the bed," or would you describe exactly how it should look?
Chris: Well, depends on the scene. Marvel did a 9/11 remembrance book [Heroes, released December 2001] where a writer and an artist would team up to do a poster commemorating what happened and how they felt about it, and when my page came around, I spent about 2,000 words describing the scene, and Salvador [Larocca] just drew this brilliant, brilliant picture, and as far as I was concerned, it didn't need anything more from me. I had done my work, he had done his work, and the end result was brilliant.
Me: Very good. So you were inducted into the Comic Book Hall of Fame earlier this year. What was that like?
Chris: A lot of fun. One of the more unexpected things in my life. It's way too cool for the likes of me.
Me: It doesn't surprise me at all.
Chris: Well, you can think that. I'm not supposed to because I'm supposed to be shy and modest. But it's way cool.
Me: When did you start doing conventions?
Chris: When they started asking me. How else can you meet the fans? In the old days, it was more fun because people would write letters, and the nice thing about them is it tells you what they were thinking of and how they were reacting to specific issues. Now it's all posted online, and you seriously have to go looking for it. There aren't that many hours in a day. But conventions are a really nice way of putting a face on the readership.
Me: What are a couple of your more memorable convention experiences?
Chris: Just meeting people. It's a weird sensation when you run into creators, actors, people you've respected, and they tell you how cool you are, and you go, "No no no, that's my line."
Me: Do fans ever just go to pieces meeting you? Do they cry? Hyperventilate?
Chris: Oh yeah. But the cool thing is that now I'm starting to see a lot more young kids coming, which leads one to believe there's hope.
Me: What advice would you give to aspiring writers?
Chris: Get a day job [laughs]. Being a writer is like being an artist: if you've got the bug, you do it. You don't argue. You can't argue. Then it's just a matter of kicking at the wall until something sells. And then, once you make the first sell, you go for the second, then the third, then the fourth, and so on. There's no real secret to being a writer. There's just having an idea and then having the madcap determination to see it through to fruition.
You might assume this is an excerpt from the interview. It is not. This short conversation lasted over 20 minutes because we were sitting at Chris's table in artist alley, and he was signing books all the while. My recording of the interview is peppered with crowd noise, his sidebars with other fans, and announcements blasted over the PA system. Chris had trouble getting into the convention—apparently, his vendor badge could not be located—and the interview started late, when he already had more people waiting for him than a Soviet bread line. Yet it was one of my best interviews ever. Chris is articulate and witty, and he cares a lot for his fans. Though I didn't hyperventilate, meeting Chris Claremont is one of the highlights of my life. And it happened at Rhode Island Comic-Con.
The rest of the convention was as you might expect. Dunkin Donuts Center is a basketball arena, which makes it an odd venue for a convention. The dealer room was on the court, which was roomy, but some of the celebrities were tucked away in what looked like janitor closets. Know who had the longest signing lines that I saw? Tom Kenny and Bill Fagerbakke—you know, SpongeBob and Patrick, which confirms my theory that the next growth market for collectors is 1990s memorabilia.
There were few fan-led panels, which disappointed John. Such panels were the seed of conventions back in the 1970s, but they are in danger of disappearing in this bigger-is-better era. John likes the panels. He considers himself a fan but not a super-fan. The super-fan award goes to the girl I saw at Jim Beaver's table. Tears streaked her teenaged face, and after she and her mother walked away, they stopped and hugged as though a dog had died.
Friends, that is fandom. That is love. Wil Wheaton says that the defining characteristic of being a nerd is that "we love things. Some of us love Firefly and some of us love Game of Thrones, or Star Trek, or Star Wars, or anime, or games, or fantasy, or science fiction. Some of us love completely different things. But we all love those things SO much that we travel for thousands of miles … we come from all over the world, so that we can be around people who love the things the way that we love them."
Rhode Island was a great place to go for love. The convention is young, so I have no doubt they will work out the problems of limited space and no maps and unreliable celebs. Every staff member I saw, every volunteer I talked to, was a delight, which confirms what Susan Soares told me in the beginning.
So if you have the chance, go to Rhode Island Comic-Con next November. Buy your badge early. Study the schedule. Stay hydrated. It will be one of your best shows all year.
_______________________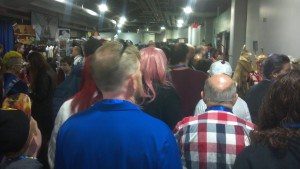 John and I weren't the only attendees.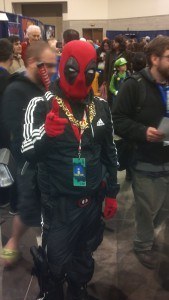 This guy was also there. Wait, he's at every convention!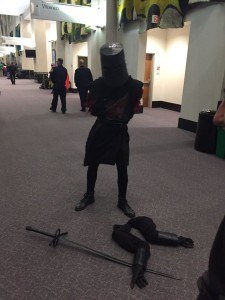 Due to the no-weapons policy, this guy wasn't allowed to be armed.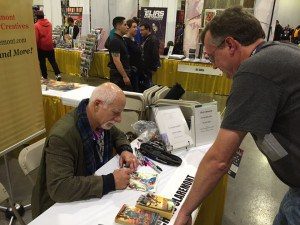 Chris Claremont signs my comic.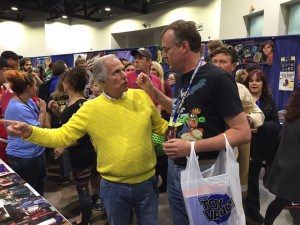 The Fonz tells me to leave the convention.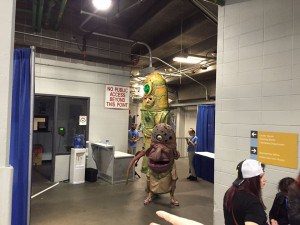 Whoops! This isn't the way to the men's room.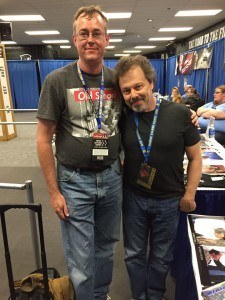 An angel just below my shoulder.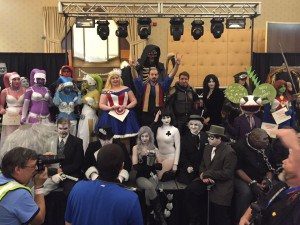 Various winners from Saturday night's costume contest, which had 70-80 total entries.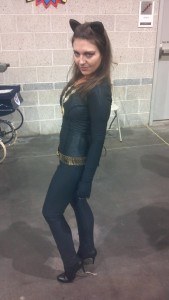 "You scratch my back, I'll scratch yours."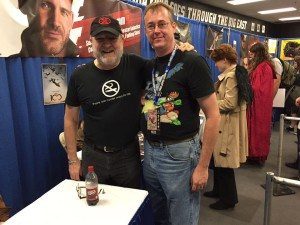 Jim Beaver asked me where I am from. "North Carolina," I said. He nodded and said, "That explains it." I wanted to say, "Right. Like Bobby Singer doesn't have a rural accent!"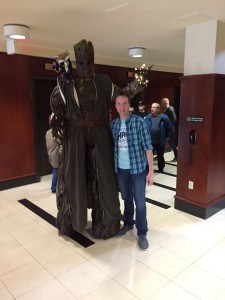 John and Groot, not seeing eye-to-eye.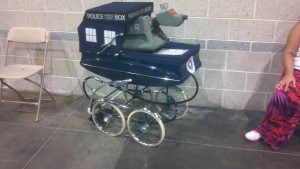 "Uh, Doctor? I think you regenerated a little too far back."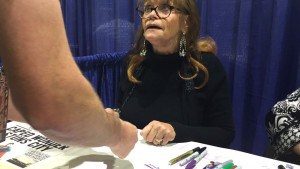 This gal is a great little Kidder.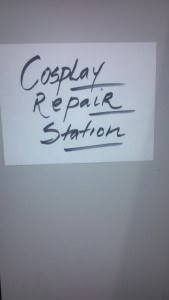 Not something you see at most conventions, but a good idea.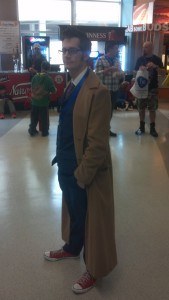 This guy also shows up at every convention. It's like he has a time machine or something.