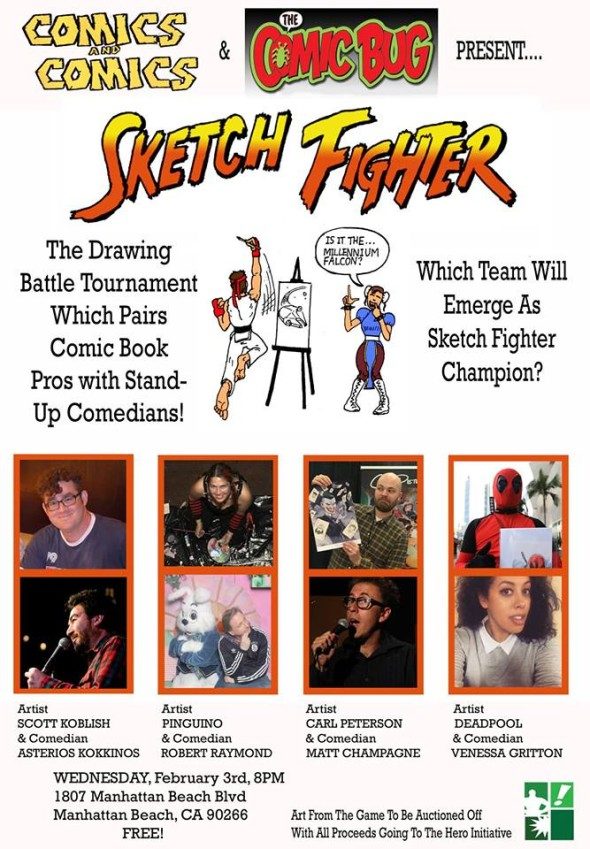 Press Release:
The quick-draw game that pairs professional comic book artists with stand-up comedians returns to the COMIC BUG on February 3rd, for a special DEADPOOL edition, in anticipation of the film's upcoming release.
Hosts TOM FRANCK and TIM POWERS will try and keep order as Deadpool illustrator SCOTT KOBLISH and artists PINGUINO, CARL PETERSON and DEADPOOL himself team up with comedians ASTERIOS KOKKINOS, VANESSA GRITTON, ROBERT RAYMOND and MATT CHAMPAGNE to determine which duo will be crowned Sketch Fighter champion. The event will be live-streamed by THAT HASHTAG SHOW and the stream will be available at the link.
Viewers in both the live audience and the livestream can Tweet clues during the game for the players to use at @sketch_fighter.
All of the art created from the game – as well as one drawing done by each artist beforehand – will be auctioned off at the night's end, with the money going to THE HERO INITIATIVE.
The Comic Bug
1807 Manhattan Beach Boulevard, Manhattan Beach, CA 90266
(310) 372-6704